Knowles Landing is an extraordinary Connecticut Riverfront historic gem.
Situated on the East side of the Connecticut River in the Middle Haddam historic district in the town of East Hampton, Knowles Landing enjoys a picturesque and colorful history of sea captains, shipbuilding and commerce. 
A once in a lifetime opportunity, the maritime landmark that is Knowles Landing is now listed for purchase. Read on for excerpts from the "Yankee Township" by Carl F. Price, first published in 1941, to learn more about the dynamic history of this nautical estate.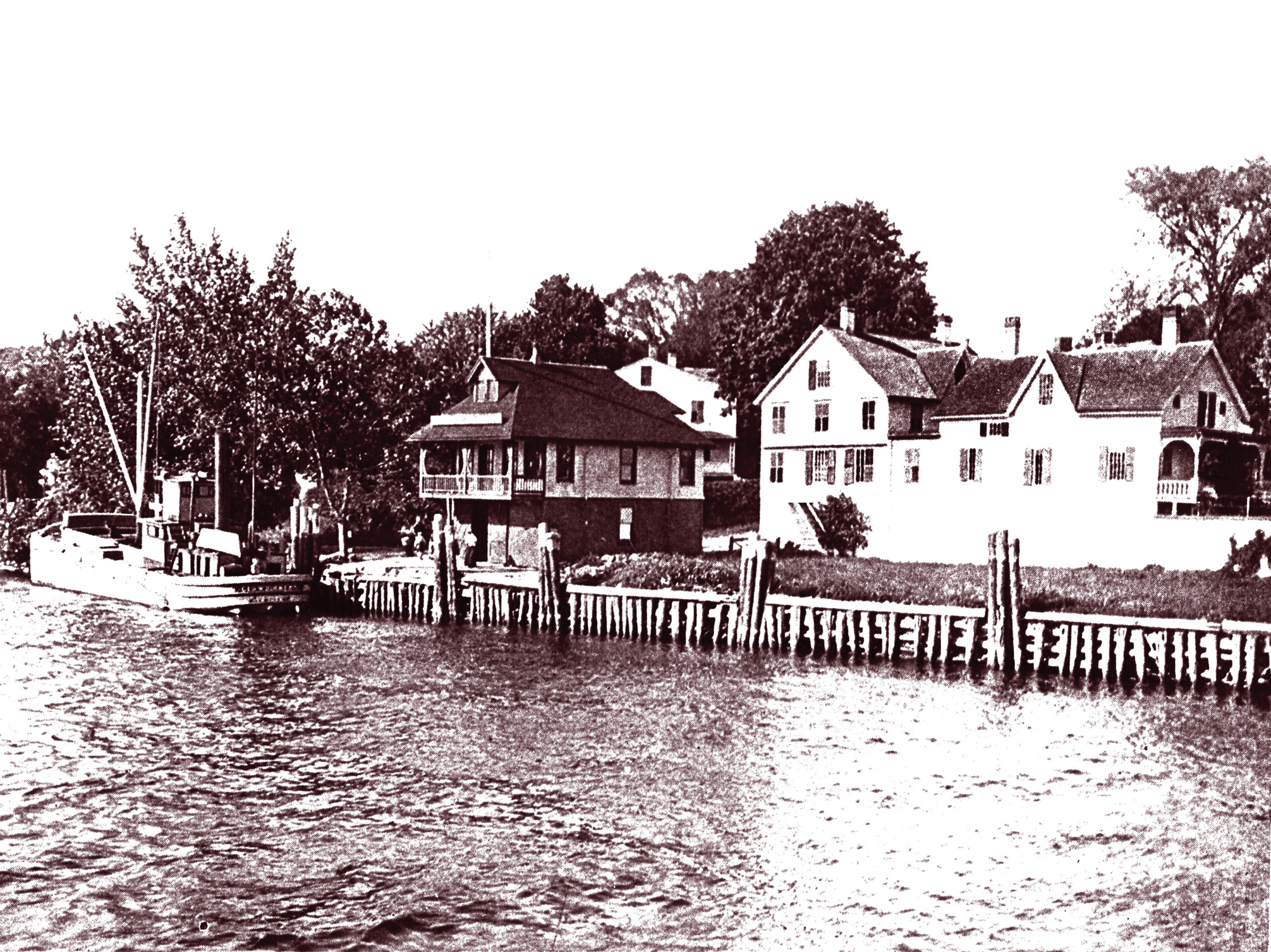 A Maritime History
East Hampton, Connecticut's greatest wealth of historic architecture was concentrated in the Knowles Landing community, home to more than a dozen sea captains and several shipyards. These remarkable yards had the capacity and skilled craftsmen to complete all the operations involved in shipbuilding, from making the hull to fitting the vessel with sails and rigging. In their heyday, as many as six vessels a year were built, each one requiring some six months to complete and upward of thirty laborers. 
Knowles Landing has been the portal to Liverpool, to Valparaiso, and to Shanghai as early as 1721. For over 100 years, from this popular ferry landing hundreds of tradespeople built and launched over 1,000 ships with more than a dozen sea captains traveling the seven seas. Today, the history and magic of this historic seafaring village is still very present.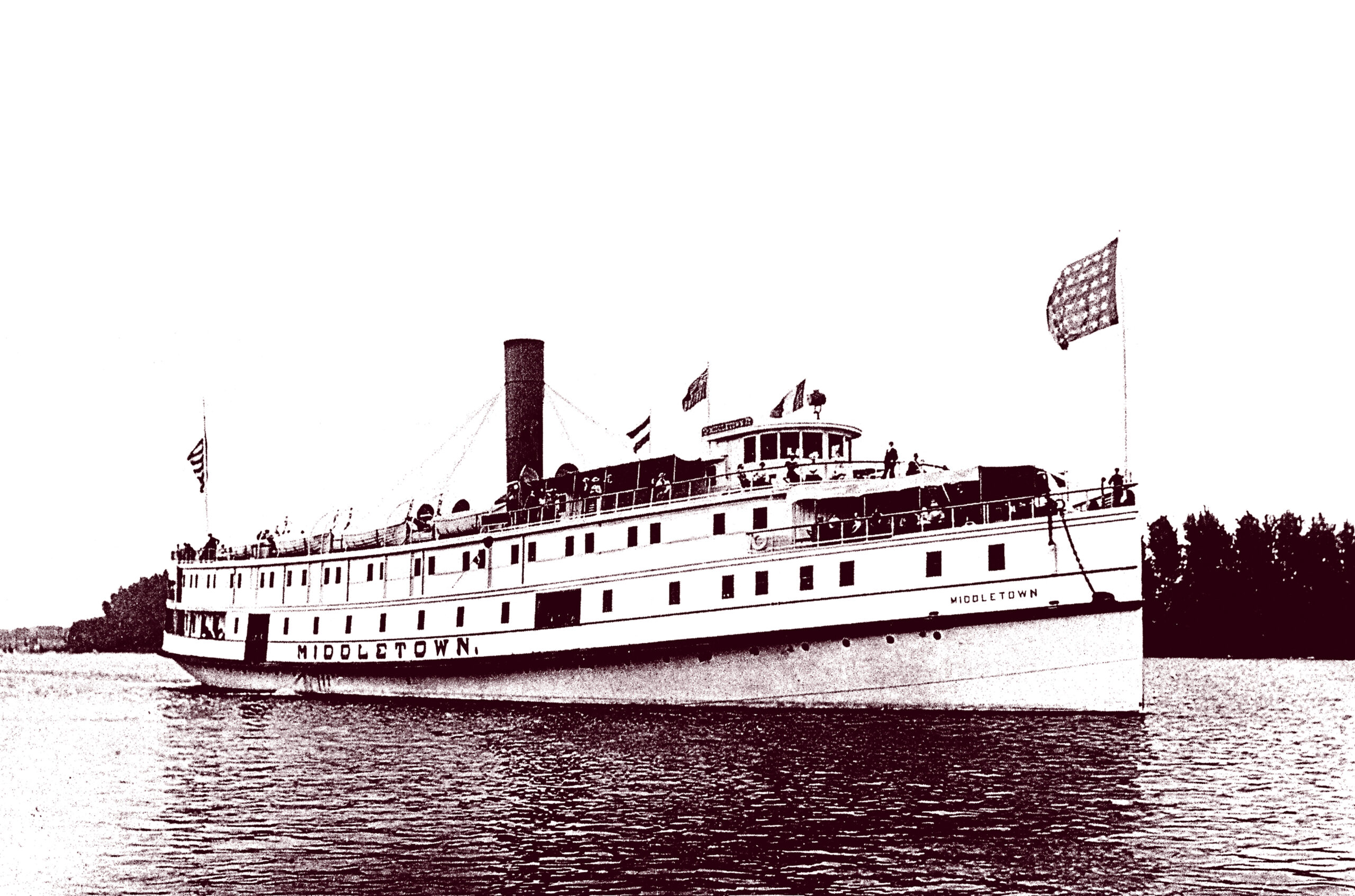 The building of small boats in Middle Haddam began at Knowles Landing in about 1758 and the first large ship was launched in 1763. Soon after, larger ships were built including many of the finest "London packets" with richly trimmed interiors of mahogany, rosewood and black walnut imported from the West Indies, the most popular ships for the trans-Atlantic trade of that day. The first three-masted schooner ship, "Scotland," was constructed at Knowles Landing. The Hurd Shipyard also manufactured oakum for caulking ship hulls.
By 1819, Middle Haddam with its four shipyards was regarded as "the most important place in shipbuilding." Middle Haddam became a village of seafaring men. According to legend, Thomas Riley from East Haddam sailed with Captain Robert Kidd – the most notorious pirate of his time. The story goes that some of Kidd's treasure was buried in Middle Haddam. John G.C. Brainerd tells in his poem On the Connecticut River: "How by the thunder-blasted tree was hid the golden spoils of far-famed Robert Kidd." When you visit Knowles Landing, check out the large sycamore tree by the dock with its mysterious cavity at the water's edge.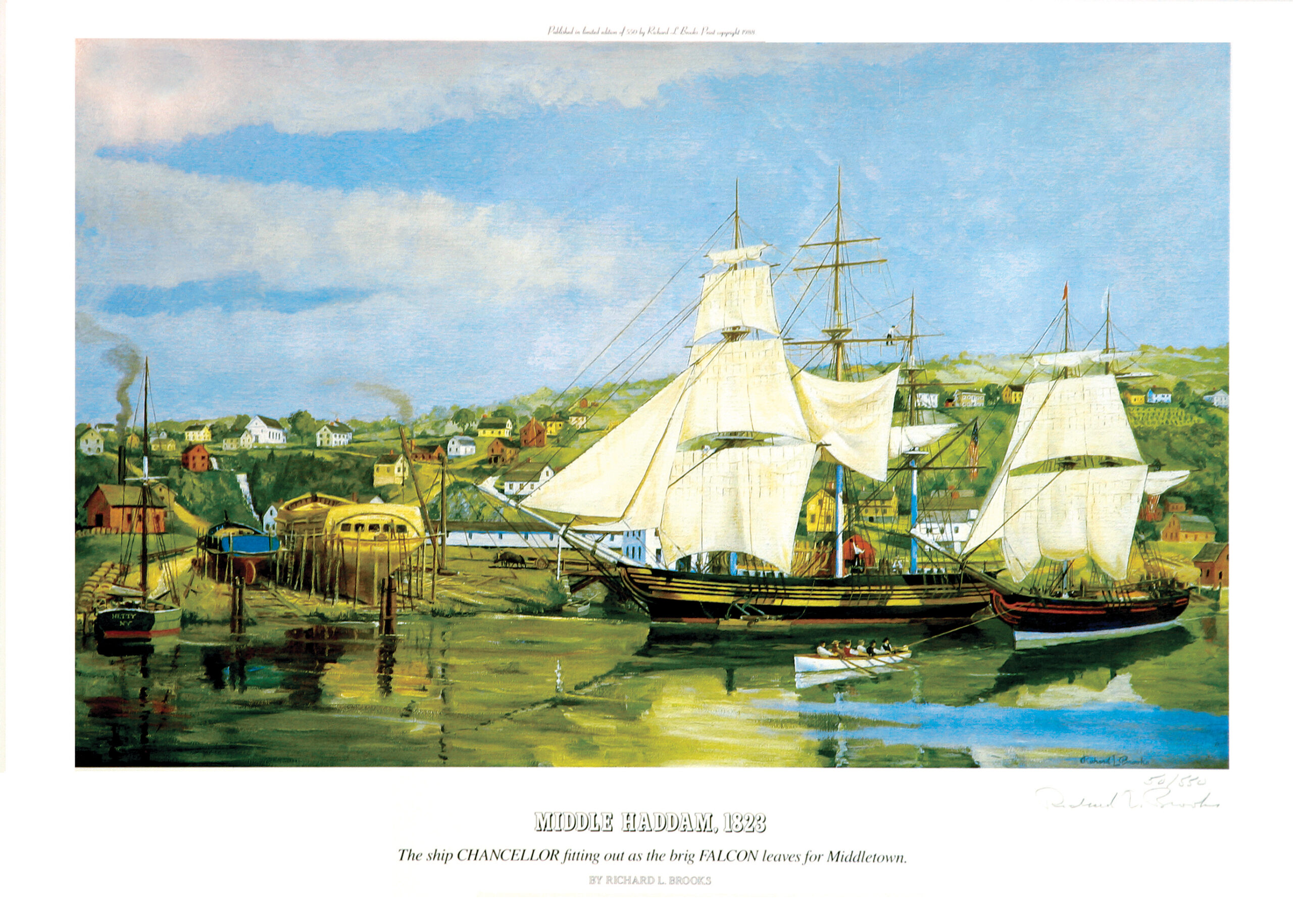 Local Steamboat Captain's Daughter
The Harriet M. Brainerd House was built as a summer house in 1886 by the daughter and son-in-law of local steamboat captain Edward M. Simpson. Harriet Brainerd's husband, Edward R. Brainerd, was a marble dealer in Chicago which surely accounts for the home's three original marble fireplaces with their unique fanciful etchings located in the living room, dining room and upstairs sitting room. 
This Queen Anne Victorian house with its steeply pitched pyramidal roof and projecting gabled bays on the north, south and west sides is surrounded by a wraparound porch. A viewing deck off the third floor, which was constructed in 1996 off of the new master bedroom suite, offers a breathtaking expanse of the Connecticut River. 
Even today, the nautical theme is very much present with the working signal light on the front porch and a compass ornament on the banister near the entrance. This Victorian provides an interesting stylistic contrast to the 18th and 19th century colonial and federal-style architecture surrounding it, and attests to Middle Haddam's transition to a residential and vacation community at the end of the 19th century for wealthy heirs of its maritime industry.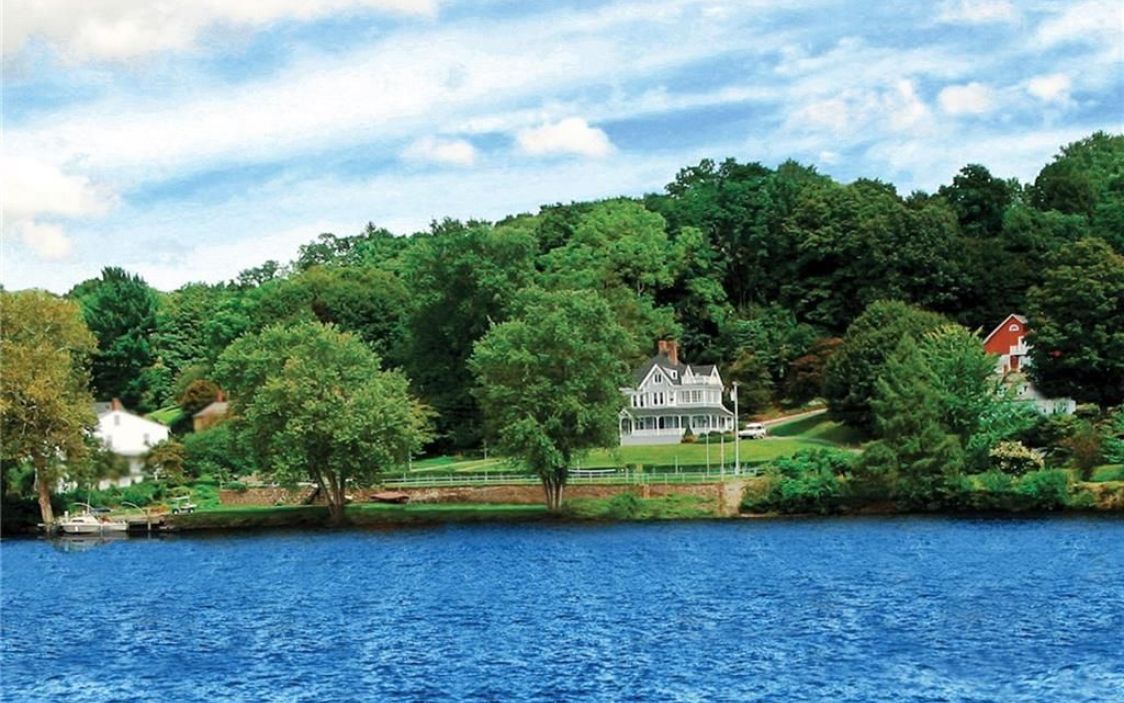 Knowles Landing Today
A once-in-a-lifetime River Retreat, Knowles Landing presents a glorious estate centrally located midway between Boston and New York City, only 25 minutes from Hartford and 45 minutes from New Haven.
Often referred to as the Jewel of the Connecticut River, Knowles Landing is at the heart of the Middle Haddam Historic District along the Connecticut River. Some 100 homes, dating from the 1730s-1900s, form this historic hamlet with about 250 residents. Today, Knowles Landing is the only viable link to its rich heritage as a riverport town for more than 200 years.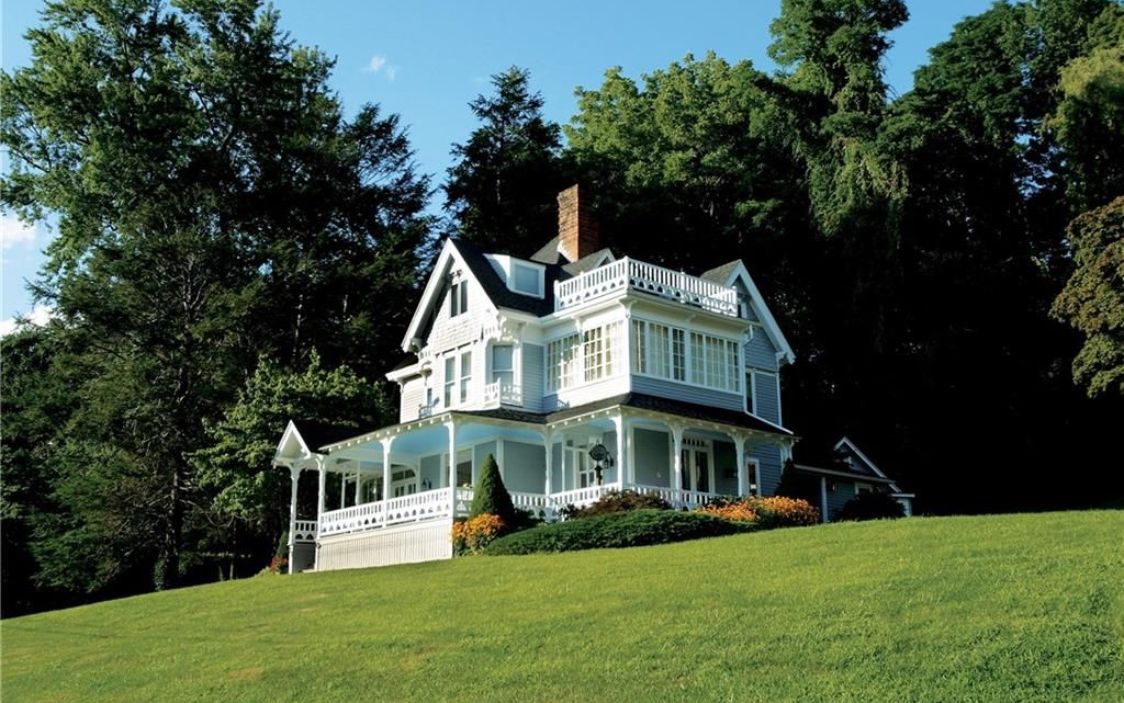 Own a Piece of Nautical History
Knowles Landing is a maritime landmark, a true destination that will entice boaters, water lovers and historical aficionados alike. The magnificent estate includes the main Victorian House residence, renovated in the 1990s and offering 3,450 square feet of living space including 5 bedrooms and 3-1/2 bathrooms and water views from every room of the home.
The Knowles Landing estate also includes the "Carriage House" with 2 bedrooms and 1 full bath, dramatic vaulted ceilings, a seamless open floor plan and sunset views from 3 decks and the waterfront gazebo. A priceless .82 acre buildable riverfront lot is included in the listing, adding to the estate's envy.
A one-of-a-kind destination offering year-round entertainment, Knowles Landing is now available for purchase. Click here to view the listing for 23-24 Knowles Road in East Hampton, Connecticut listed by Libby Matson and Frederic Bernard.