The following post was written in collaboration with Susan Emery, an active member of the Larchmont Historical Society.
Layers of history and architectural significance adorn the New England Colonial nestled amidst 5 verdant acres in Mamaroneck.
Constructed in 1950 for Rudolph J. Schaefer, Jr. (1900-82), the house at 1016 Old White Plains Road is historic in many respects. Not only does it represent a collaboration between two famous men, but it also represents a fully realized achievement of the mid-20th century's ideal of Colonial American architecture, complete with the integration of original 18th-century elements.
Rudie, as he was known, was President of the Schaefer Brewing Company and one of the more illustrious members of the Larchmont Yacht Club.  A grandson of a founder of the F&M Schaefer Brewing Company, Rudie's family first came to Larchmont as summer residents. By 1911, the family had moved to Larchmont full-time, initially at 8 Pryer Lane, and then at the waterside estate they called "Beech Lawn," which is today's Larchmont Shore Club.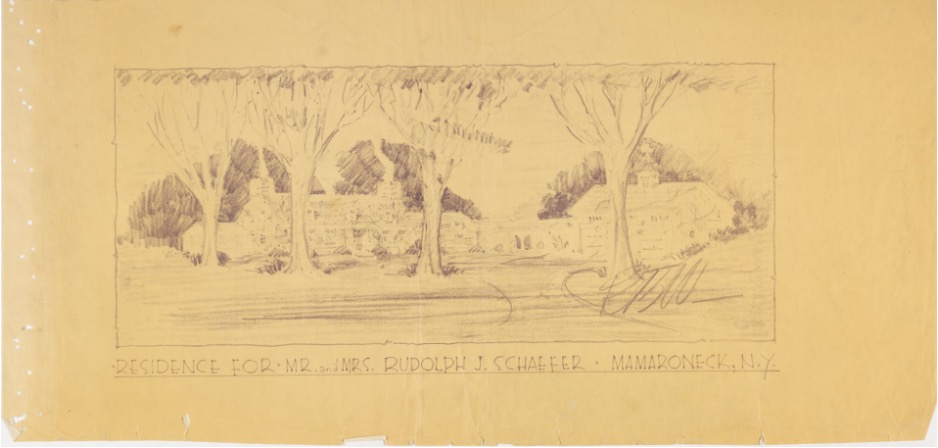 An Architect at Heart
Rudie Schaefer studied architecture at Princeton University in the early 1920s and had hoped to become an architect. Unfortunately, Rudolf Sr.'s sudden and untimely death in late 1923—just as Rudie was finishing college—meant he was needed to run the family brewing business with his older brother.
By 1927, Rudie had assumed the role of President at Schaefer Brewing Company, yet still managed to practice his architectural skills.  Soon after marrying his wife Lucia Moran, also from Larchmont, he designed their first home.
Built in 1925, the house still stands at 18 Wildwood Circle in Larchmont.  The architect for the 18 Wildwood project was listed as Paul Cerrina, but the design was Rudie's.
The house is a New England Colonial-style clapboard structure, with a broad brick fireplace and hearth in the living room—very much in keeping with turn-of-the-20th-century photographer and antiquarian Wallace Nutting's (1861-1941) concept of Colonial America.  Nutting's ideas were enormously popular at the time, and largely helped spur the Colonial Revival.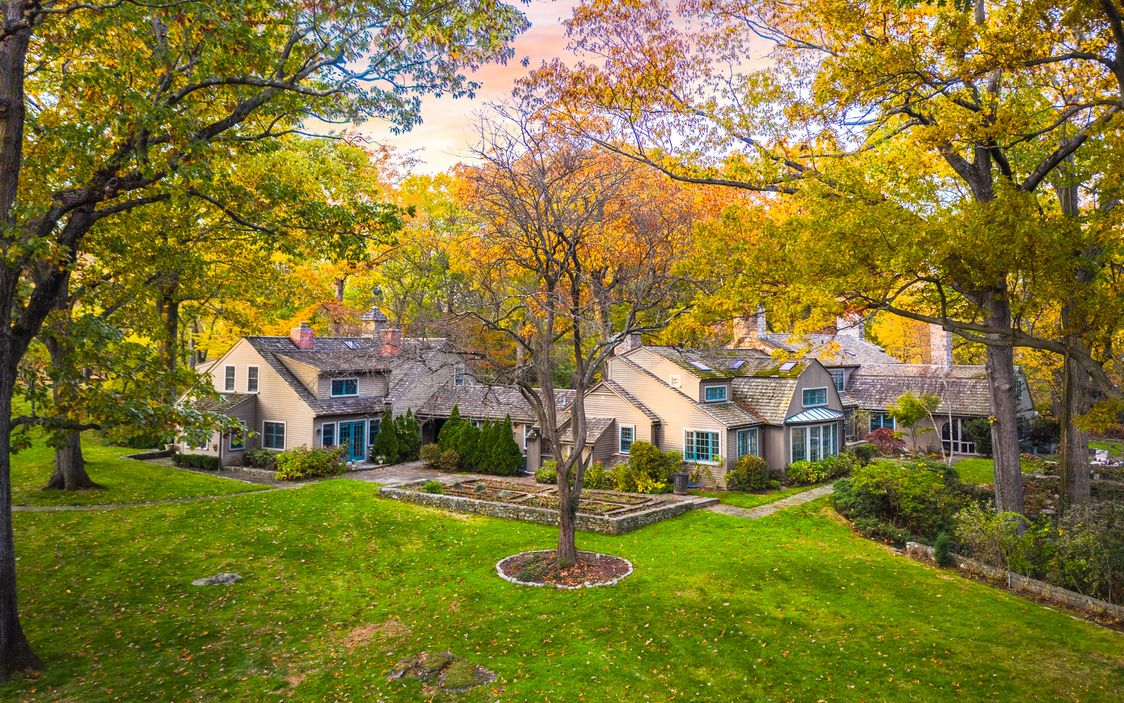 An Architectural Collaboration
A contemporary of Rudie Schaefer, Boston architect Royal Barry Wills was also seemingly influenced by Wallace Nutting's view of early America.
Wills studied architecture at MIT and quickly became an established architect in Massachusetts, known for his penchant for Colonial New England style.  In particular, Wills was associated with a revival of the Cape Cod style, which had been ubiquitous throughout New England during the first half of the 19th century.
It's not clear how Rudie Schaefer met and engaged Royal Barry Wills to design the house at 1016 Old White Plains Road.  But given Rudie's own interest in Colonial American architecture, his choice of Wills seems natural.  Beyond their stylistic simpatico, the fact that Royal Barry Wills was also known for working collaboratively with his clients made him an ideal choice for Rudie Schaefer.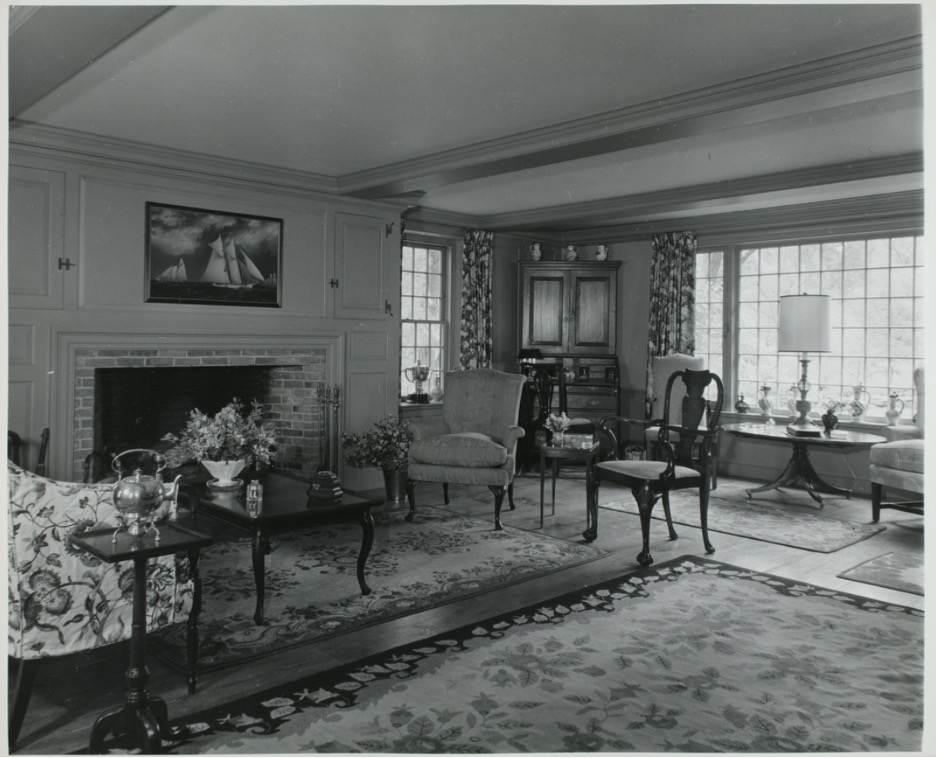 Rudie's son William Schaefer and his wife, Gwen, confirmed that the house was indeed a collaboration between Rudie and Royal Barry Wills.  According to William and Gwen, Rudie and his wife Lucia knew for years that they would build a house, and Rudie had been collecting "room ends" for that specific purpose.
Rudie amassed a group of rooms or parts of rooms from old Colonial houses and stored them until he could incorporate them into their dream house.  The hearth-stones in the house came from Dime Savings Bank in New York City, and the mosaic of cobblestones in the courtyard in front of the house came from Third Avenue, under the "el," or elevated train, near Lucia and Rudie's first apartment.  As for the interiors, Lucia handled the decorating, having stenciling completed and accessorizing with period-appropriate antiques.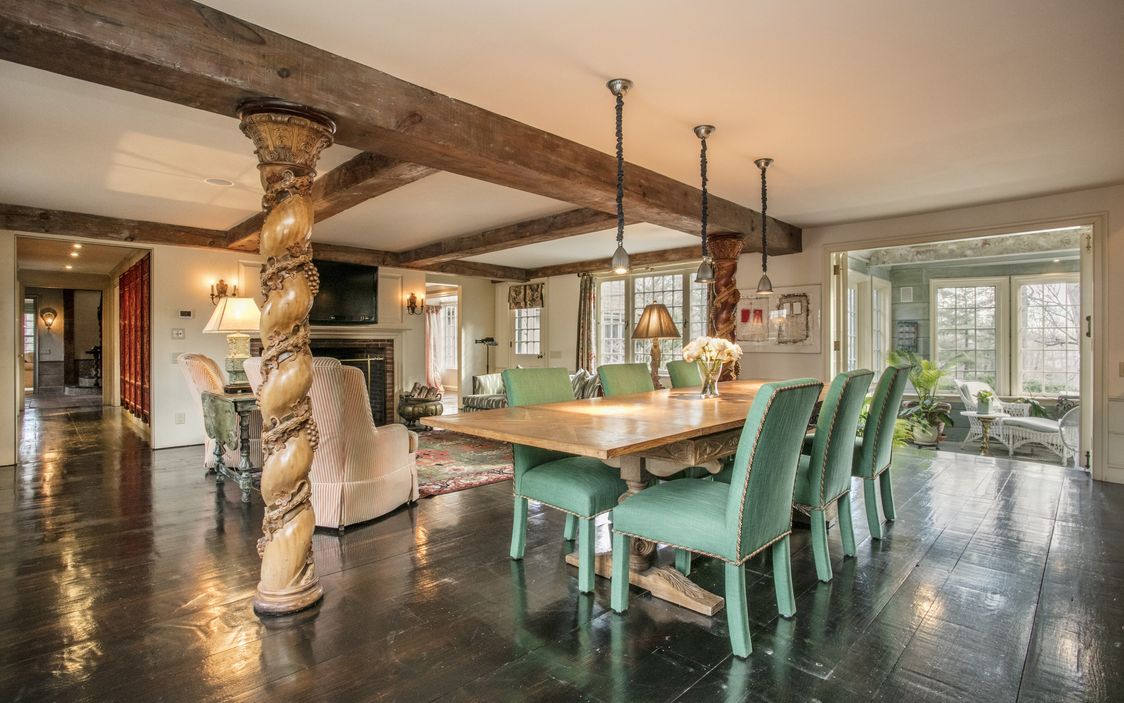 Rudie Schaefer's 18 Wildwood Circle design is quite similar in concept to the house at 1016 Old White Plains Road.  Built 25 years later, the Rudolph J. Schaefer House house can be viewed as a larger and more detailed version of that early effort.  Both are clearly inspired by the Wallace Nutting vision of Colonial America, whose impact on Americans' idea of that period cannot be underestimated.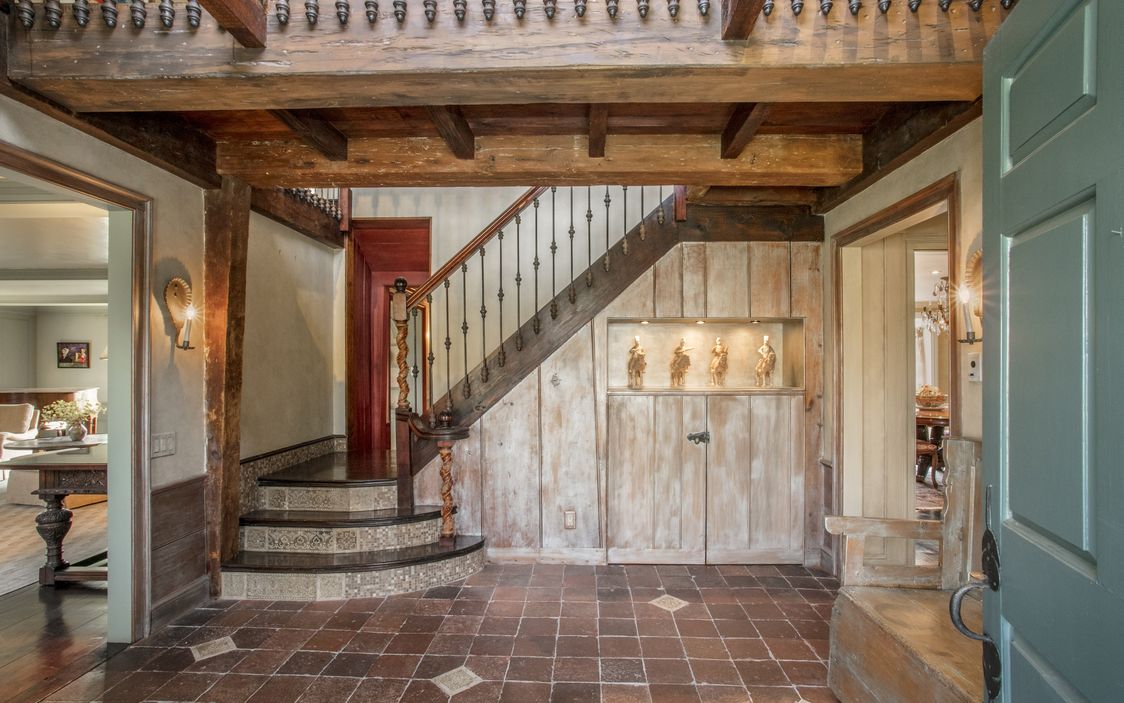 About The Rudolph J. Schaefer House
The work of famed architect Royal Barry Wills built in collaboration with brewing magnate Rudolf Schaefer, this 8,300+ sq ft residence is a storybook delight, a rich tapestry of hardwood floors, beamed ceilings & Currier & Ives charm. The height of New England country splendor, privately nestled on 5 verdant acres bordering a historic Golf Club, home of the 2020 US Open.