The Rivertown of Irvington, NY is steeped in history. Originally called Dearman, Irvington was renamed in 1854 to honor "The Legend of Sleepy Hollow"' author, Washington Irving, who lived in town.
Irvington is host to an eclectic mix of lively shops and restaurants in the historic downtown, which complements the quiet residential areas that surround it. The town's ample green space and carefully preserved 19th-century architecture entice newcomers and retain long-time residents.
The residence at 3 Ardsley Avenue East is a historical gem of Irvington featured in the Irvington Historical Society's archive. Designed by noted architect L.C. Holden and built for Amzi Barber, a pioneer in the asphalt industry who laid many of Westchester County's roads, this intentionally showy house with marble stonework, fanciful turrets and an unusually pitched and gabled terracotta roof was the Gate Lodge prominently marking the entrance to the estate. Only three families have lived in the home, starting with the Jaffray Family after which Irvington's quiet enclave, Jaffray Park, is named.
We are proud to share the story of this unique home, written in collaboration with our client Sally Frank. Read on to learn more about the home's incredible details.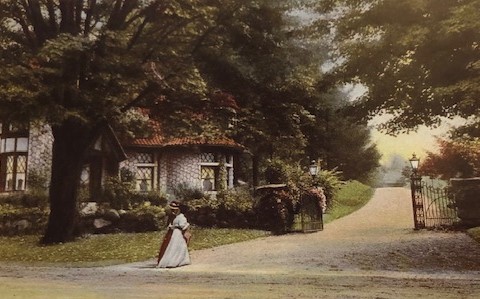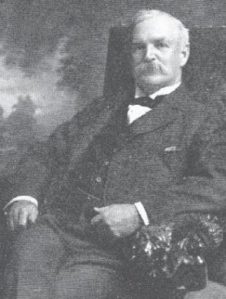 Historical Charm Meets Modern Amenities
The one-of-a-kind home features a distinctive and dramatically pitched and volleyed terracotta tile roof, multiple dormer windows, wood, copper and stucco detailing throughout, as well as castle-like turrets and soaring chimneys on a half-acre of elaborately landscaped, hidden, flat property in the Ardsley Park neighborhood of Irvington.
A 2003 restoration, renovation and addition, led by Tobias Guggenheimer Architects, blends the home's historic charm with modern, luxury amenities including a three-story addition with basement, chef's kitchen, master bedroom with vaulted ceiling and en-suite bathroom.
Chef's Delight
On the first floor, 10.5-foot ceilings and 7-foot tall windows create a feeling of space and light, while a blue and white glazed backsplash, from Country Floors, beautifully captures the essence of  Claude Monet's Giverny kitchen. Custom-designed cabinetry made of rare, reclaimed wormy Chestnut wood lines the walls and clerestory windows flood the space with light. The chef's kitchen features top of the line appliances, built-in butcher block with prep sink, soapstone sink and countertops, exposed stone walls, custom-designed wine glass storage, and hand-made wicker basket drawers for root vegetable storage.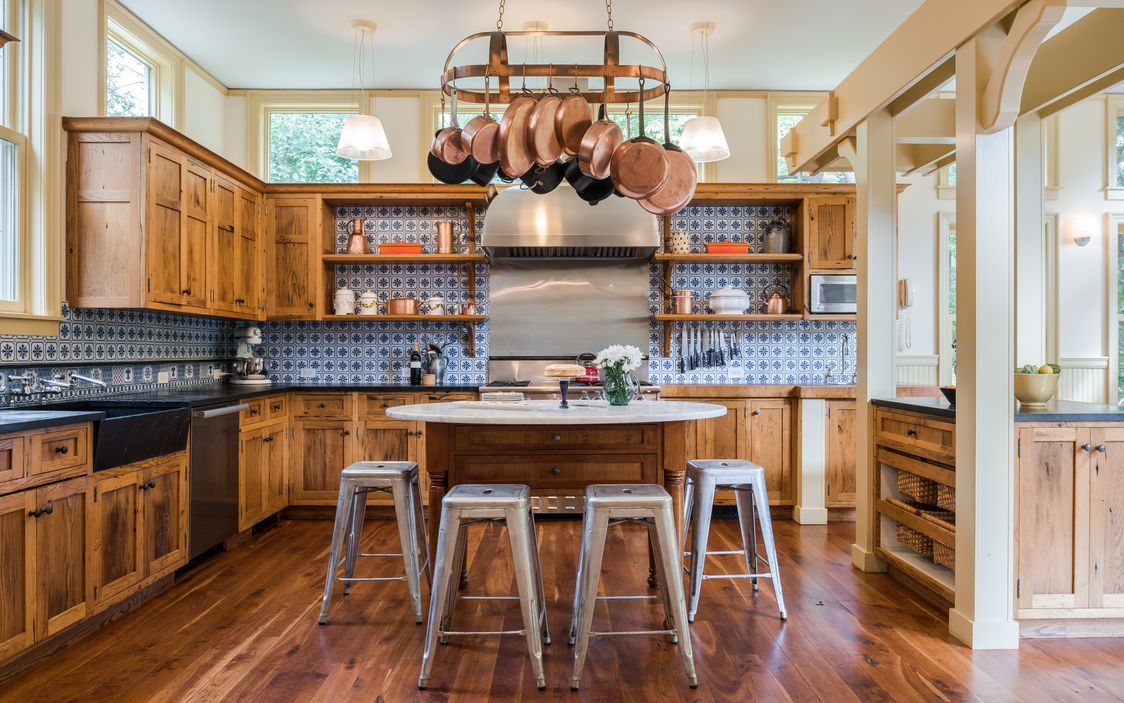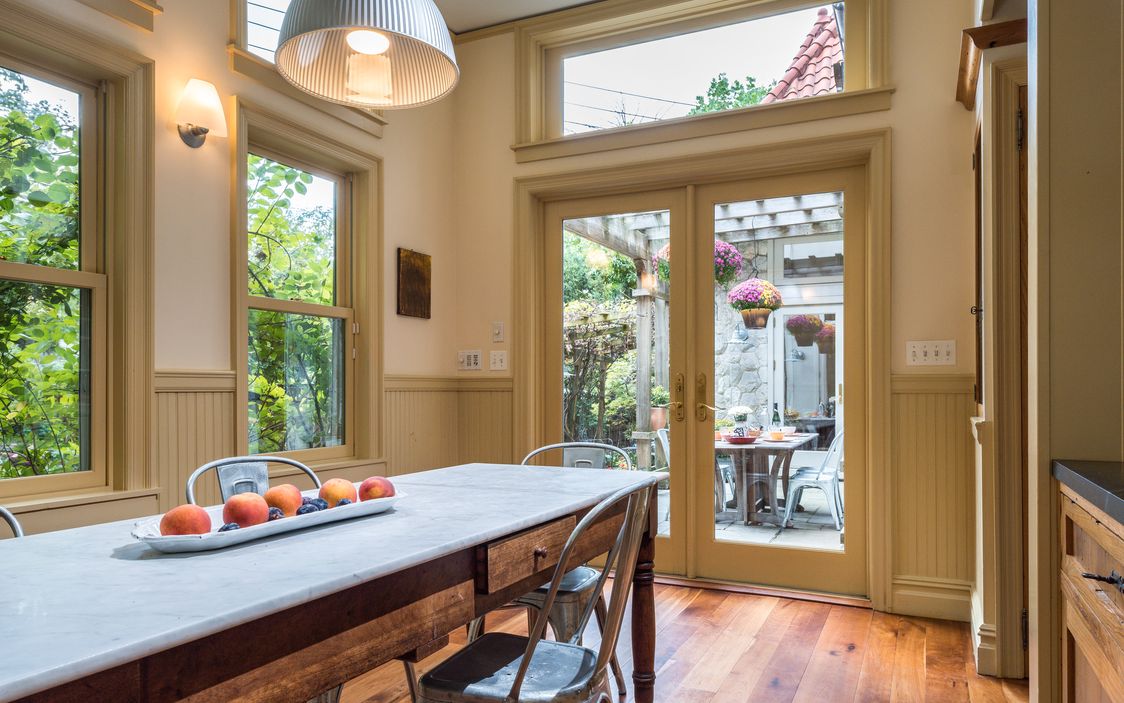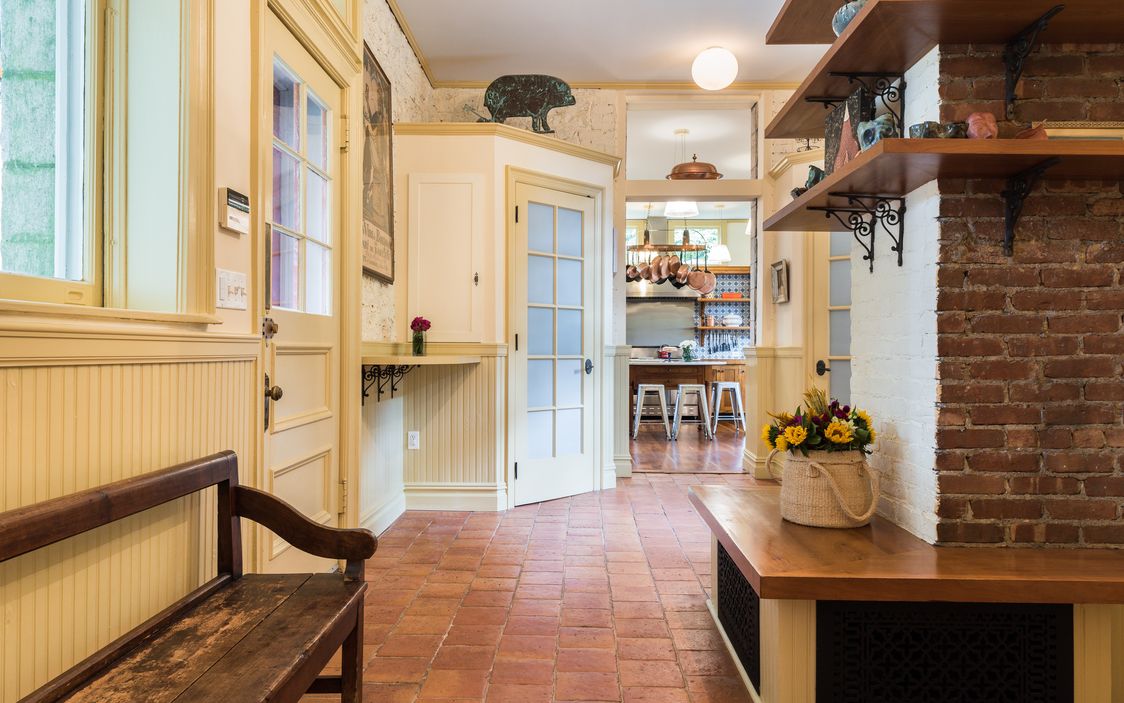 First Floor Living
Continuing on the first floor, a one-of-a-kind entry foyer is flush with bespoke details including a transitional counter space ideal as a bar set up for entertaining, with built-in bookshelves and bench, illuminated by Artemide and Flos lighting.
There is a large, light-filled dining room comfortably seating twenty that opens onto outdoor patios with European hardscape. The family room has an impressive twelve-foot diameter round turret with built-in window seating and bench storage. The living room is complete with a fireplace and a small turreted corner offering a quiet retreat. A powder room with Duravit and Philippe Stark fixtures round out the architecturally profound first floor.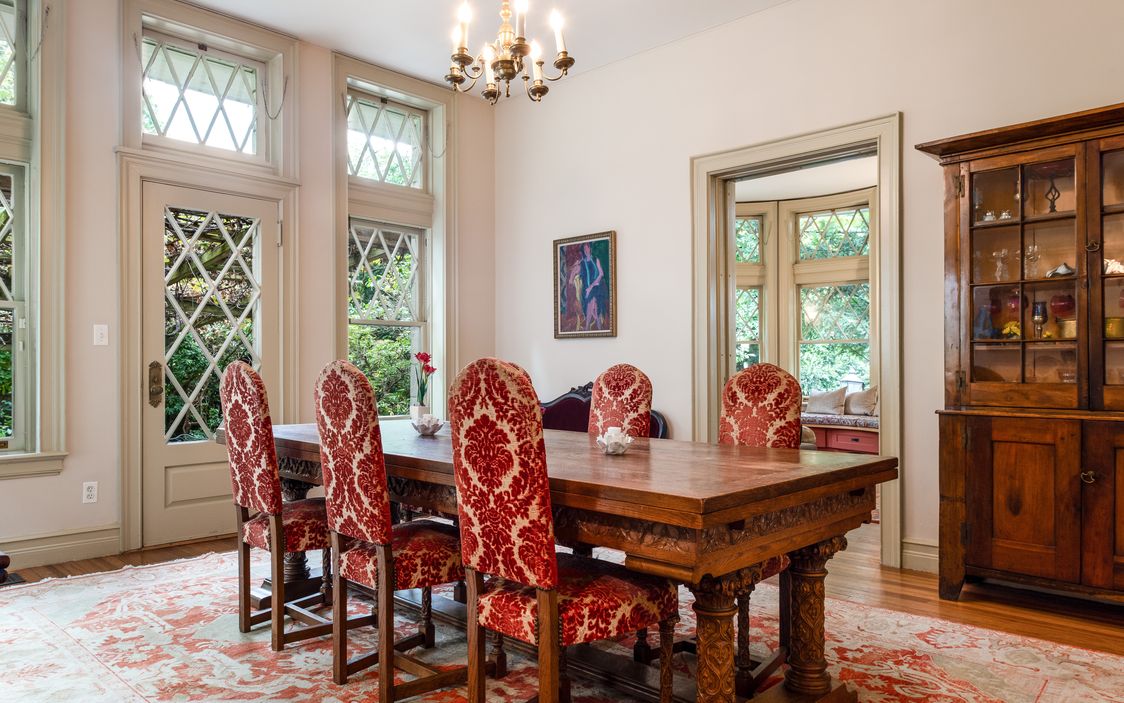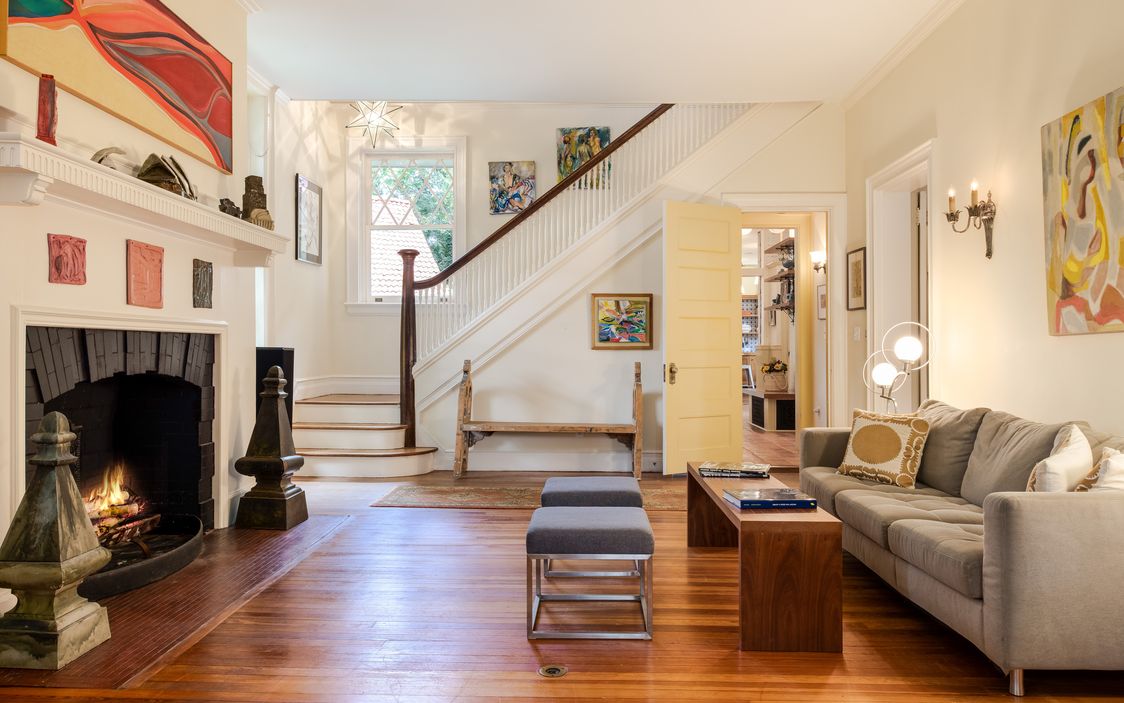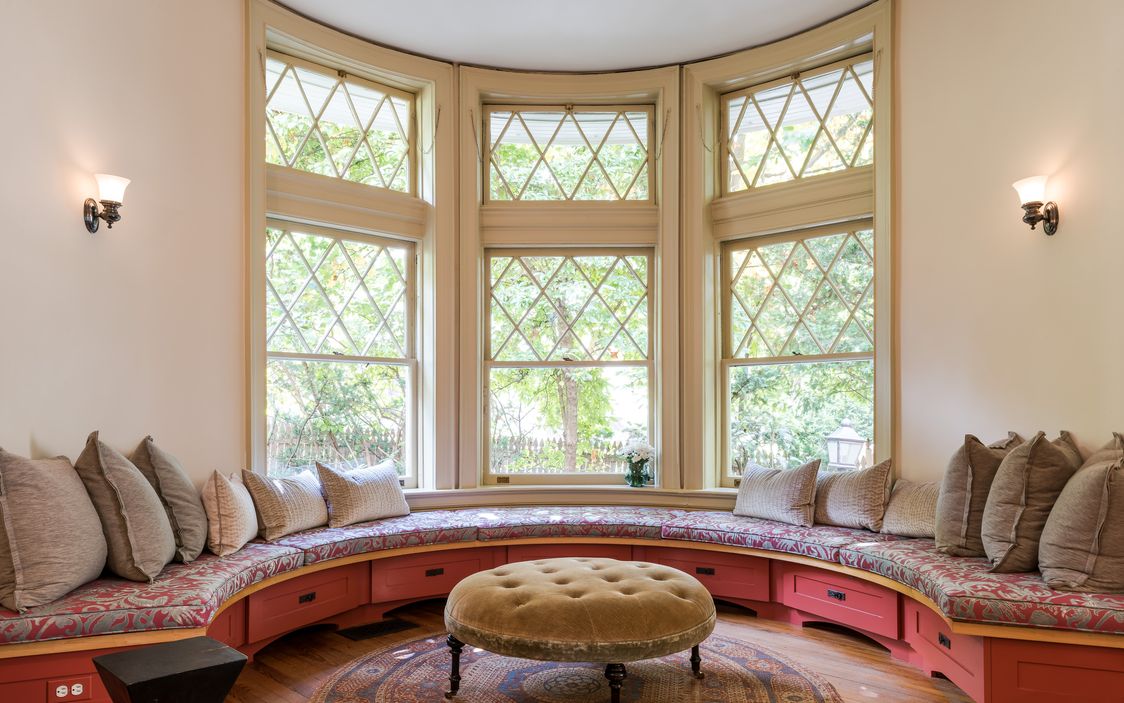 Custom-Detailed Bedrooms & Bathrooms
The home's interest continues on the second floor, where you'll find a serene master bedroom with 14-foot ceilings, three large closets and a spa-style bathroom including a steam shower. A hallway library sitting area with built-in bench and bookshelves leads to three additional bedrooms that repeat the turreted pattern from the first floor offering intriguing nooks and unusual spaces within the rooms. Two bedrooms are linked by a stylish Jack and Jill bathroom and there is a hall bath with unusual round tiled shower and Jacuzzi tub.
The third floor features a light-filled bonus space for work or overnight guests with windows offering a dramatic view of the property and the architectural details of the roof.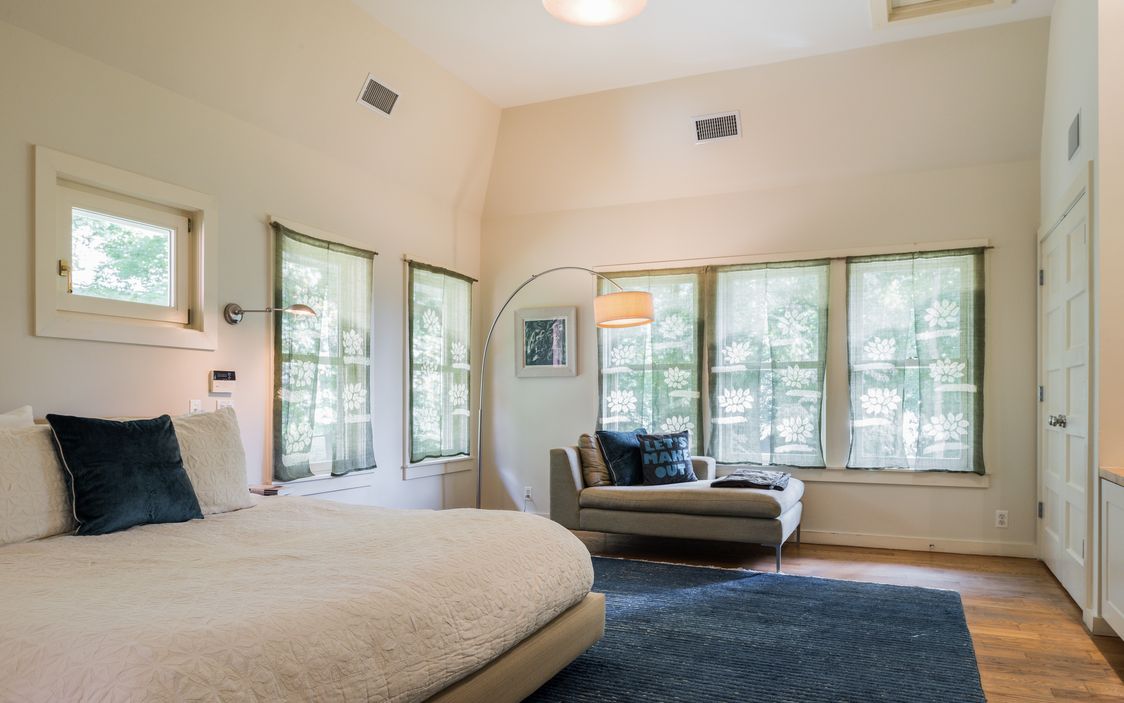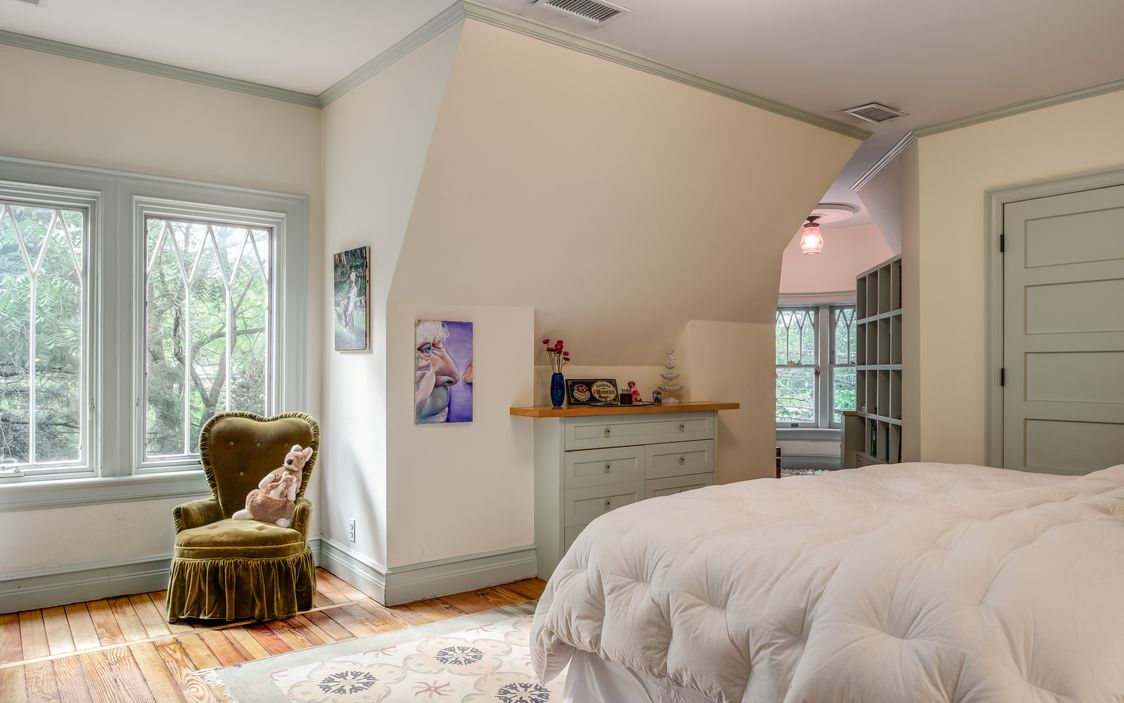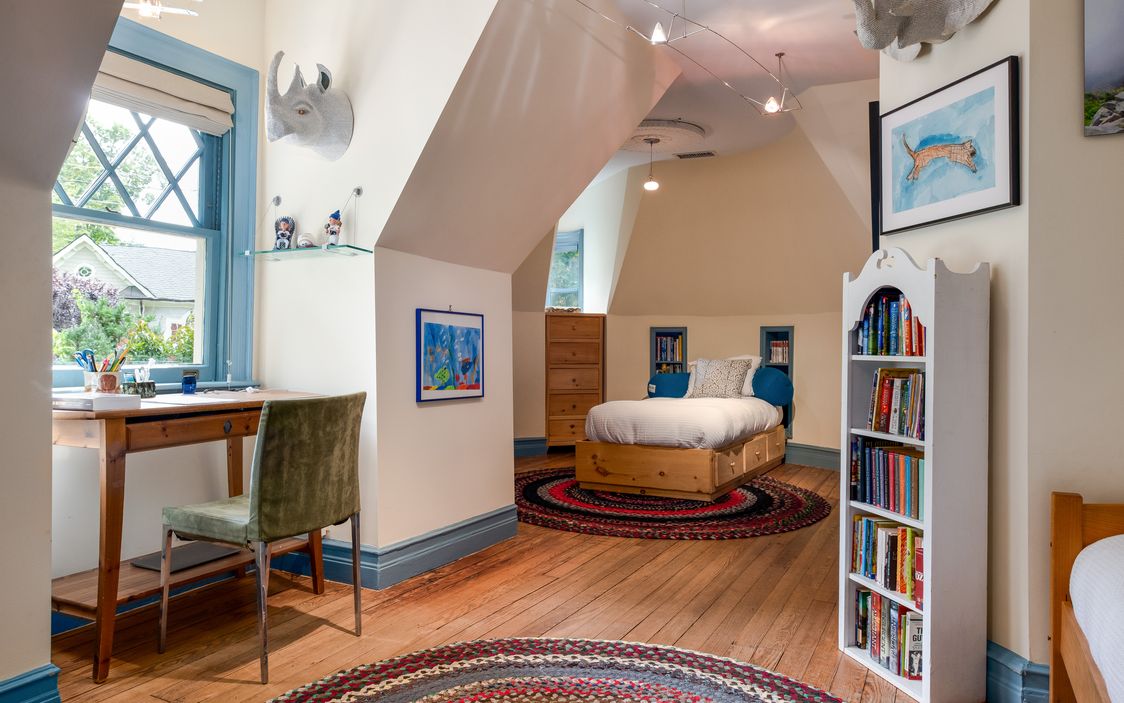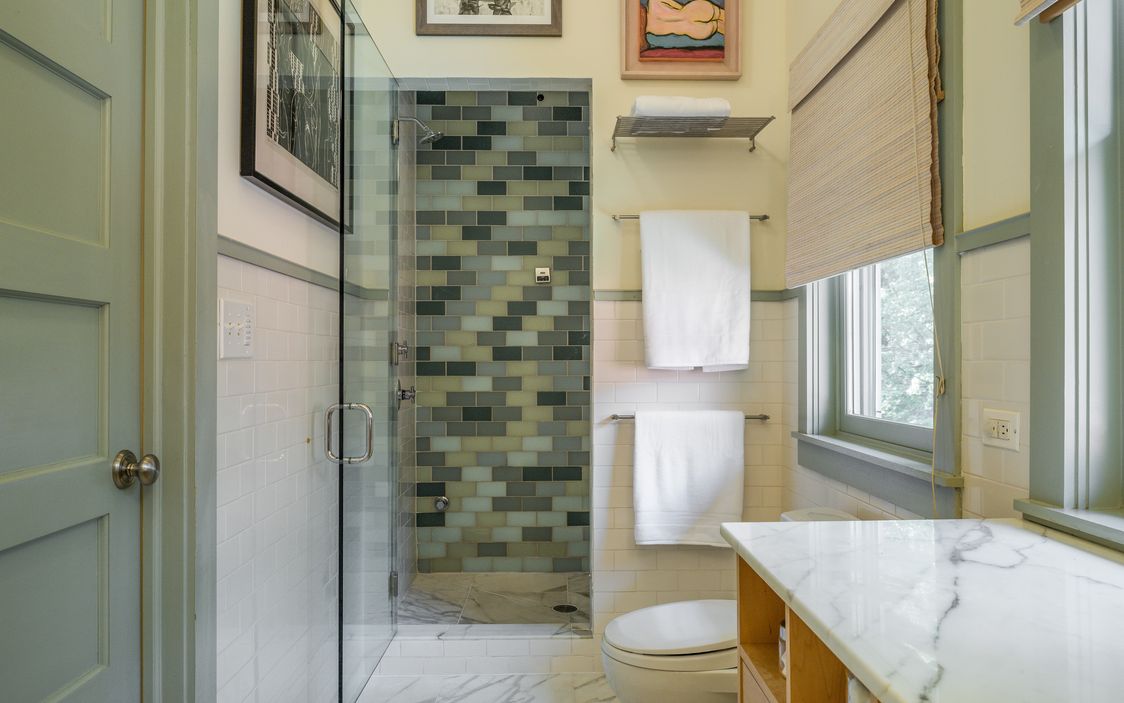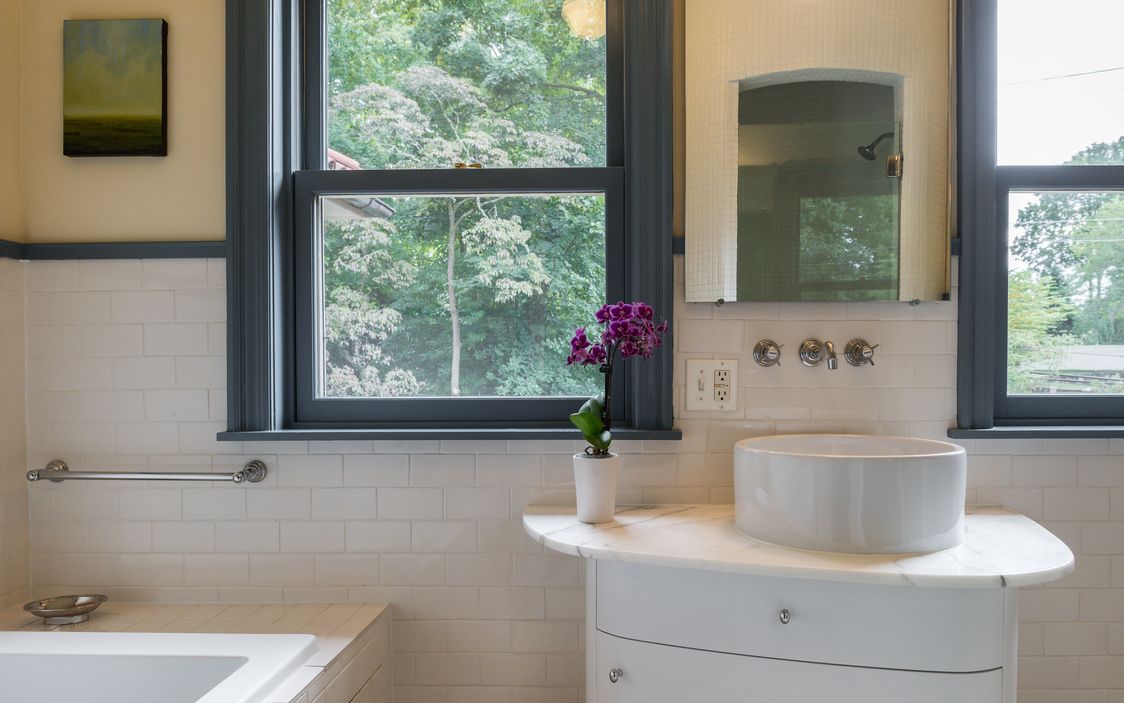 Spaces for Everyday Living
A semi-finished 6-room basement covering the footprint of the entire house includes thoughtfully dedicated spaces for every member of the family. A laundry room, full bathroom, arts and crafts room, playroom with turret playhouse, pantry, ping pong/exercise room, boiler room and a separate entry from the outside complete the basement level.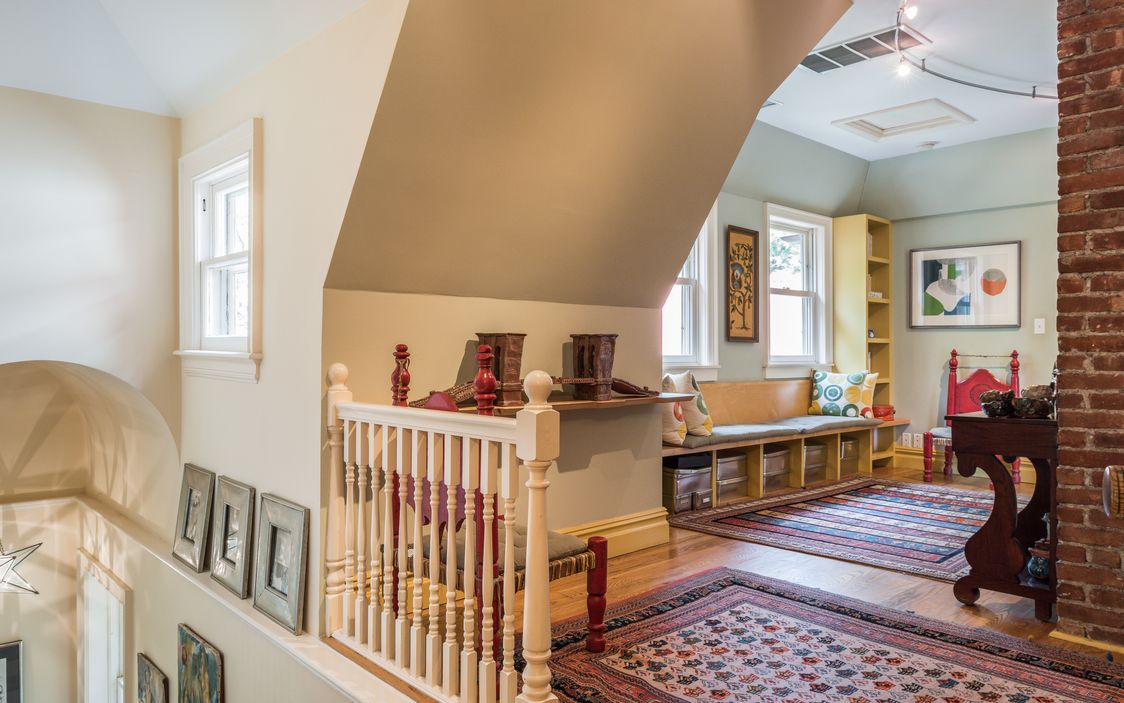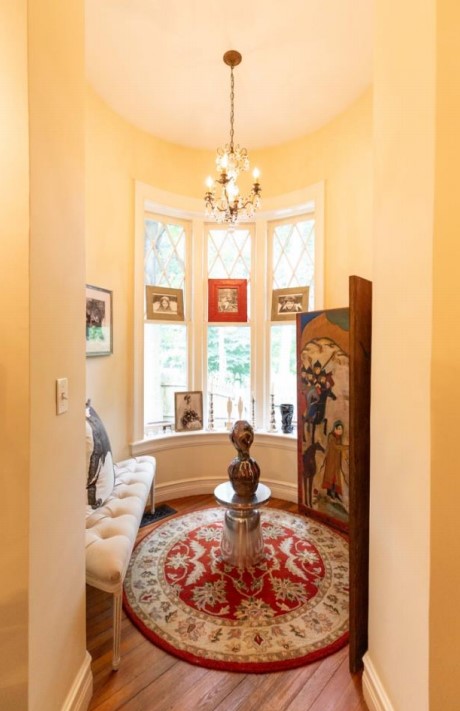 Private Outdoor Living
The home's generous living spaces continue to the exterior with doors providing outside access in every room. Outside are two patios perfect for entertaining: one offering natural shade from a 68-year-old grapevine, and both with lighting and speakers.
Sitting on a level half-acre, the home's enviable grounds are surrounded by perennial beds and mature trees including flowering Magnolia, Cherry and Dogwood, as well as Azalea, Andromeda and Hydrangea bushes. A Long Island Cow Bay Gravel ground cover and Bluestone pathways carry throughout the exterior. A custom-made artisan wrought iron gate at the driveway, a 6-foot tall Cedar fence and a custom stone wall on the property's Broadway side preserve a sense of privacy from the road. A detached two-car garage offers covered parking and a second story provides 450 square feet of storage space, ideal for an eventual office or in-law suite. Additional exterior details include a cement paving brick driveway with parking space and original estate stone pillars.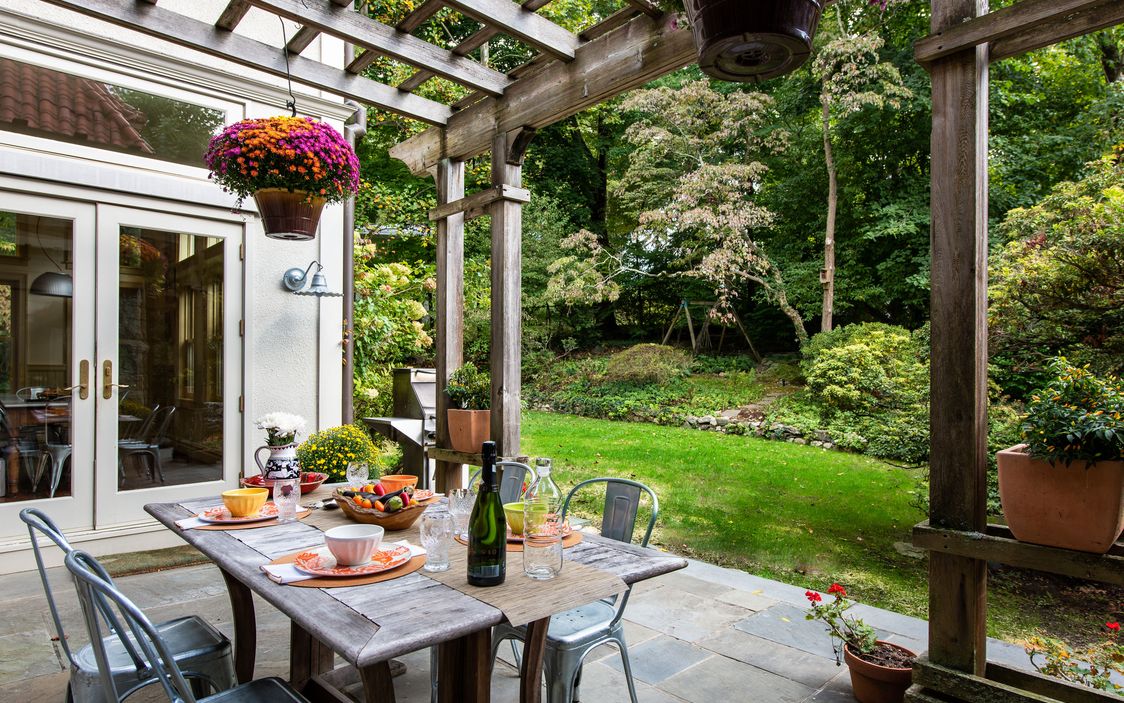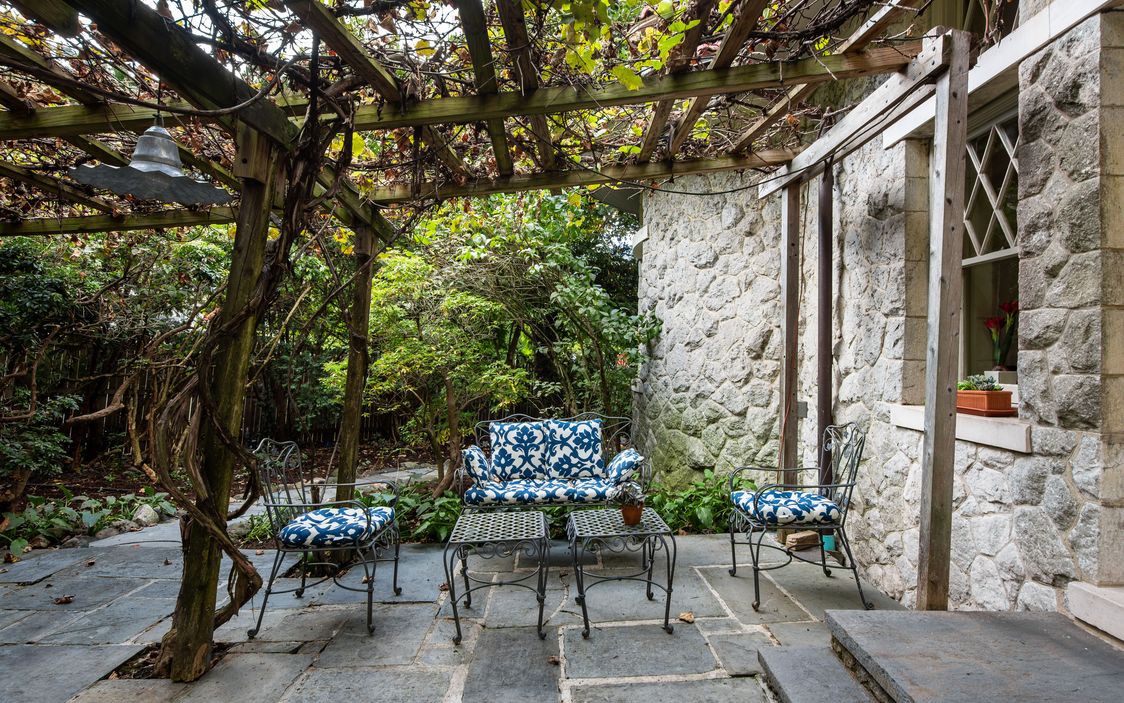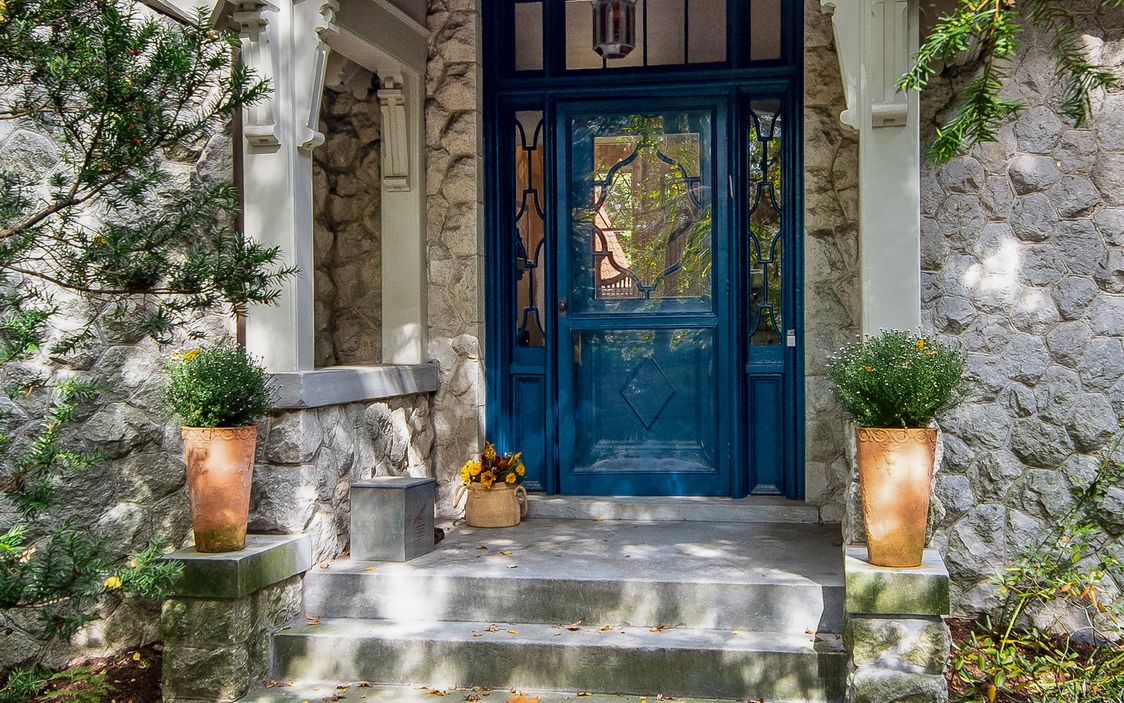 Neighborhood Amenities
Centrally located in the river town community of Irvington-on-Hudson, the home enjoys every amenity the neighborhood affords. Access to the Old Croton Aqueduct Trail is conveniently located directly across the street, allowing easy walkability to the main streets of Irvington and Dobbs Ferry, Dows Lane Elementary School and Irvington's public baseball fields and tennis courts. A commuter's dream, the home is a short ten-minute walk to the Ardsley-on-Hudson train station where riders enjoy a forty-minute scenic commute to NYC along the Hudson River.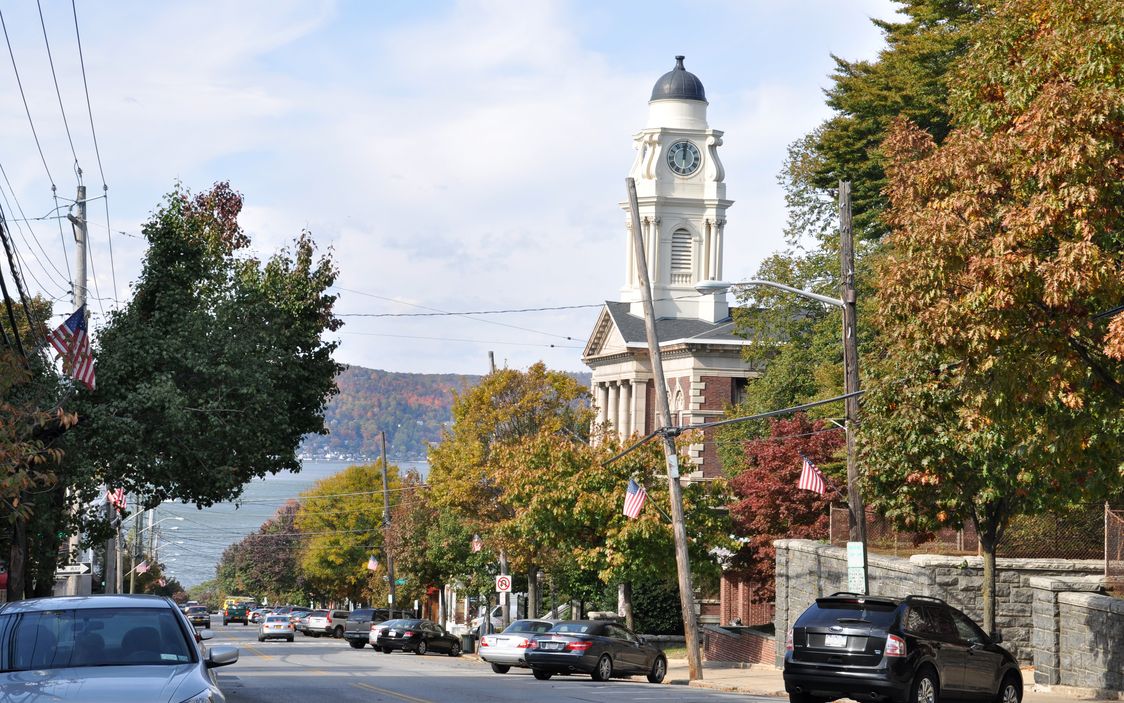 Related Listings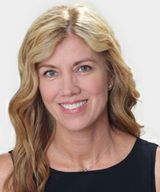 Thank you to the Irvington Historical Society for contributing information on the home's history.