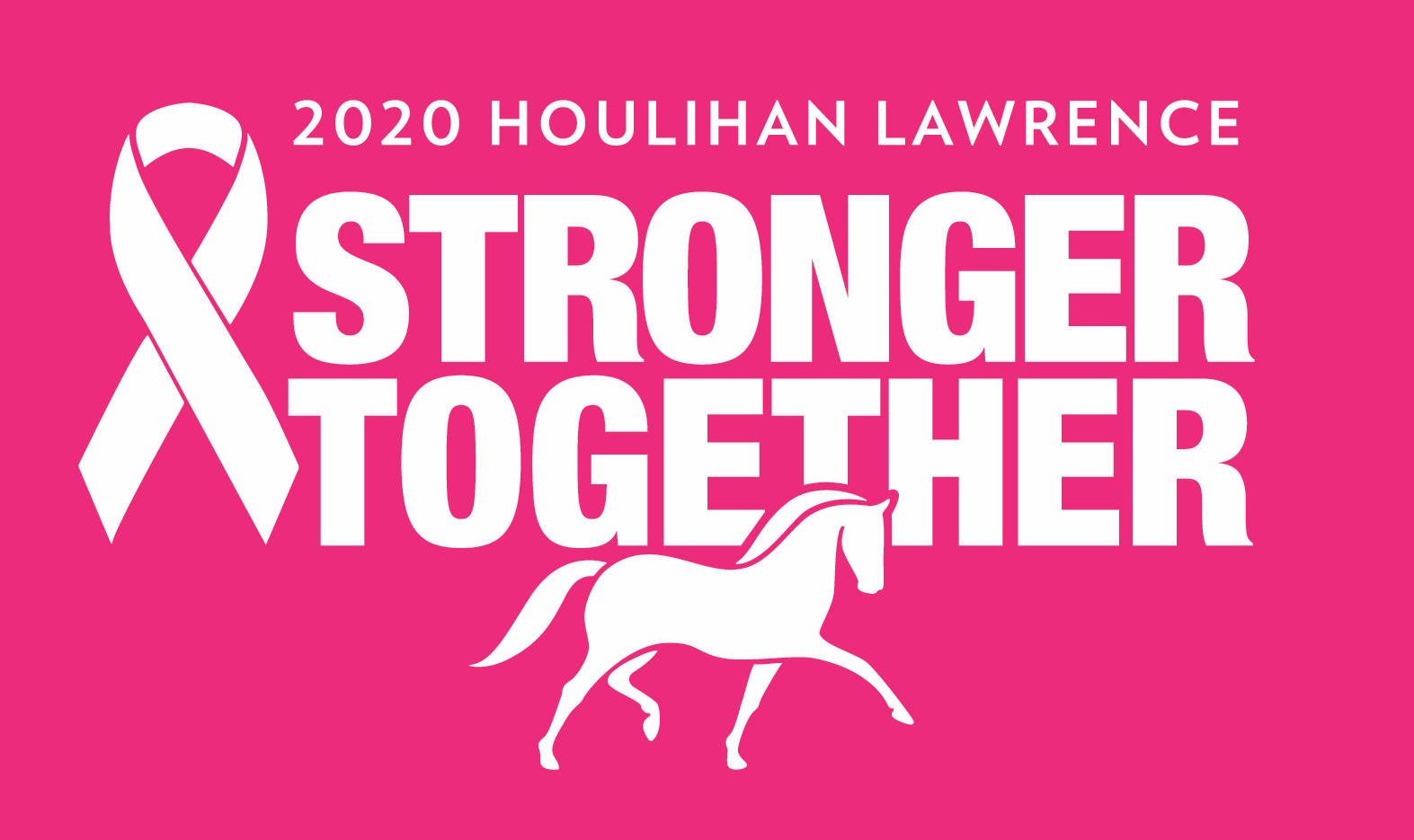 This October marks over 20 years of Houlihan Lawrence's support of Breast Cancer Awareness month, the company's largest philanthropic initiative. And while Breast Cancer Awareness month is sure to look different this October due to COVID-19, we remain committed to being Stronger Together and raising funds toward advancing Breast Cancer research and prevention.
Read on to learn how you can help contribute and support our teams!
"Think Pink: Open Houses for a Cure"
"Think Pink: Open Houses for a Cure" will take place the weekends of October 17 – 18, October 24 – 25 and October 31 – November 1. Participating Houlihan Lawrence open houses will be sharing information about the company's Stronger Together initiative, and will have Stronger Together face masks and yard signs available for purchase with a portion of proceeds being donated toward this important cause. Click here for a list of open houses taking place this weekend.*
*Participating open houses will vary.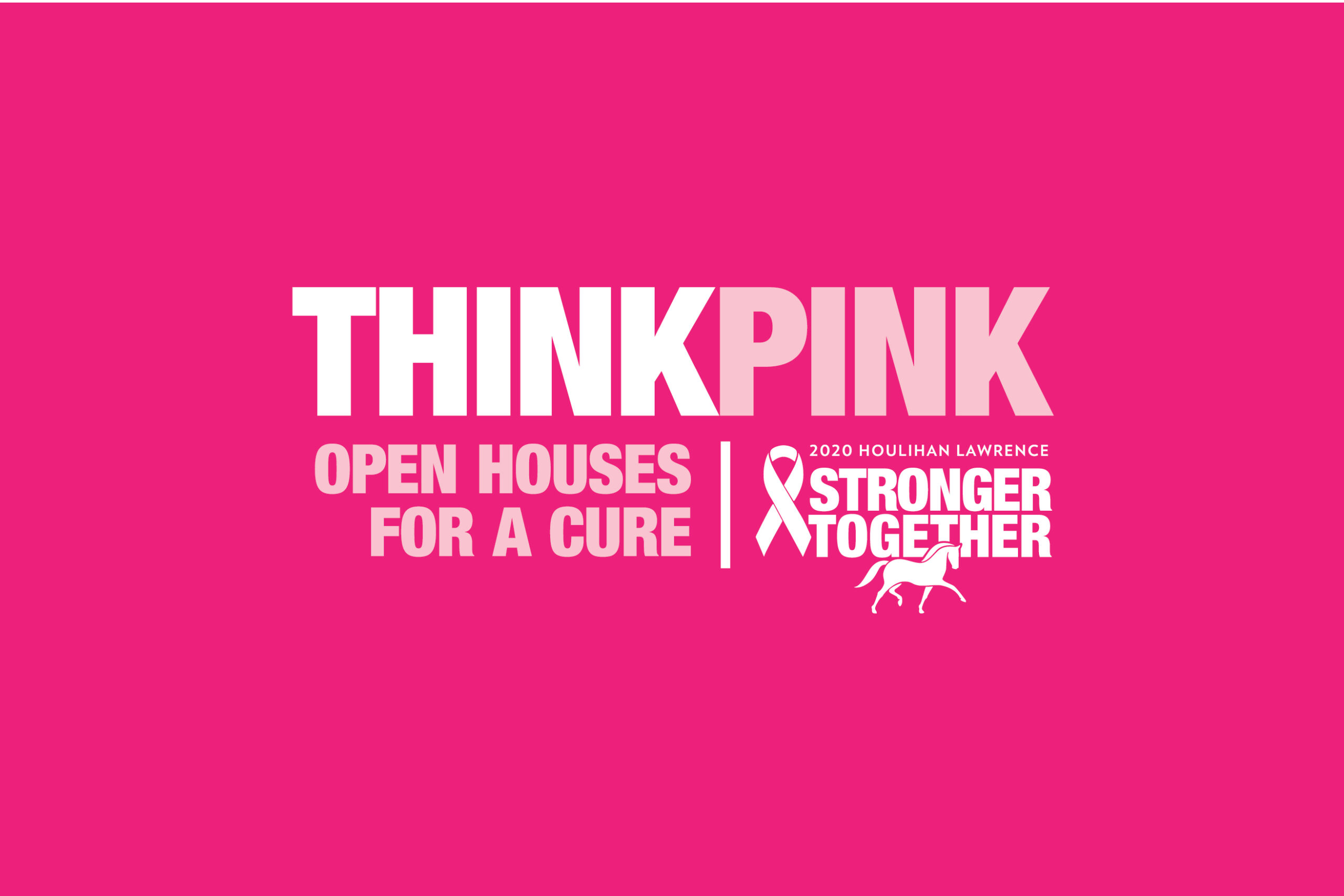 When: October 18, 2020
Where: Manhattanville College, Purchase, NY
Drive Thru Parade: 9:00am – 12:00pm (teams will be showing their support in shifts, The Stronger Together Team Drive-Thru Parade shift is at 9:00am)
While the COVID-19 pandemic has changed what the Making Strides Against Breast Cancer annual walk looks like, the ACS has quickly adapted and will be hosting a contactless drive-thru parade at Manhattanville College on Sunday, October 18.
Get excited, dream up fun ways to decorate your car, create a fun driving playlist, practice your horn-beeping skills, purchase your 2020 Strides swag to wear, and help Making Strides save lives from breast cancer by signing up your team today.
You can also kick off your self-paced walking in your neighborhood or local park on October 18th, or anytime in October, and share your photos with Making Strides using #MakingStrides914. We may not be walking in the same location, but we will be together in spirit.
Click here to join the Houlihan Lawrence Making Strides of Westchester team. 
When: September – October 2020
Where: Virtual!
The American Cancer Society Real Men Wear Pink initiative gives men a leadership role in the fight against breast cancer. Community leaders around the nation use the power of pink to raise awareness and money for the American Cancer Society's breast cancer initiatives, including innovative research, patient services, and education around screenings and risk reduction. It's one important way the American Cancer Society is attacking cancer from every angle.
Click here to support the Real Men Wear Pink Houlihan Lawrence team. 
When: October, month-long
Where: Virtual!
Time: Whenever works for you!
Due to COVID-19, for the first time the Miles of Hope walk will be virtual, and will be partnered with Breast Cancer Awareness Month to create a month-long challenge!  Miles of Hope invites you to walk, run or bike; around the neighborhood, in a park, in your town, on a trail, or wherever you are comfortable to do so, to honor the fighters, survivors, and those that we have lost to breast cancer.
Challenge yourself, or your family and friends, be active and reduce your risk for cancer while supporting our cause. Log your miles, share your photos and videos, and know that we are still together in spirit this October.
Click here to join the East Fishkill Houlihan Lawrence Miles of Hope Team. 
Click here to join the LaGrange Houlihan Lawrence Miles of Hope team.
When: October 4, 2020
Where: Walk With Us, Wherever You Are
This year, Support-A-Walk has a new look: Walk With Us, Wherever You Are. On Sunday, October 4, 2020 we will walk wherever we are, near or far, to raise funds for free breast and ovarian cancer support services. Even though we can't gather by the thousands in the park, we can still walk together and work together for a common cause!
Support Connection began as a dream envisioned by Houlihan Lawrence agent Nancy Heller, a breast cancer survivor, and the late Richard Adamski, who lost his wife Myra to breast cancer. Houlihan Lawrence is proud to partner with Support Connection for over 25 years!
Click here to join the Support Connection Houlihan Lawrence team.