As thoughts turn to turkey, holiday decor and gift lists, the Houlihan Lawrence family comes together in the spirit of giving to help support those in need.
From our agents, to our offices, to our corporate team, we are proud to come together as an organization, spending countless hours volunteering and supporting charitable causes in our communities. Read on to learn how our Houlihan Lawrence offices and agents spread the giving spirit throughout our communities North of NYC.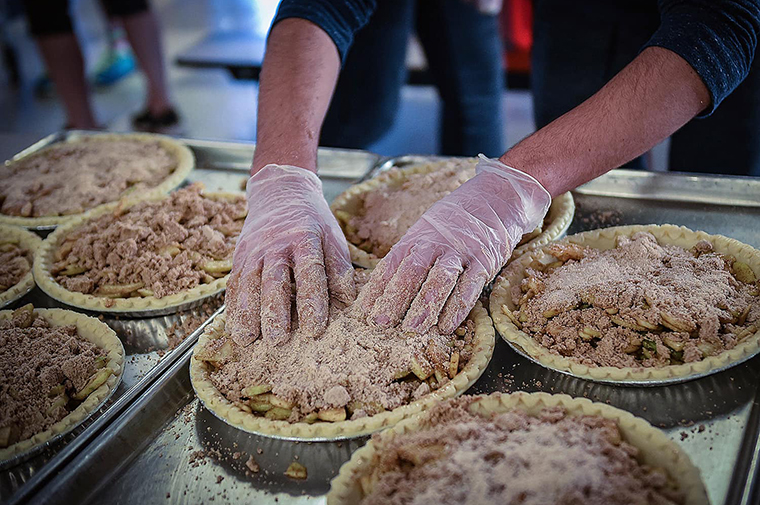 Irvington Thanksgiving Meal Delivery
For 25 years, the Village of Irvington's Recreation and Parks Department has organized a community-supported meal delivery program to support those in need during the holiday season.
On Thanksgiving morning, volunteers convene at the Irvington Senior Center located at Scenic Hudson Park to cook meals for senior citizens and families in the community. Once the hundreds of meals are prepped, volunteers deliver the hot food and care baskets throughout the community. It's a heartfelt tradition that really shows caring and commitment to those less fortunate.
Janet Kovacs, Branch Manager in our Irvington office, is an 11-year member and current Vice-Chair of Irvington's RPAC (Recreation & Parks Advisory Committee). Janet has made her support of this important cause a family tradition, including her husband and twin children every year by participating in one of the many Thanksgiving morning deliveries.
And Janet has brought her Houlihan Lawrence family in on the cause. Houlihan Lawrence supports various Irvington Recreation and Parks Department sponsored events throughout the year including Rocktoberfest and Youth Baseball, and will be making a monetary donation to the Thanksgiving program.
Thanks to the hard work and dedication of the community, this year is slated to be the biggest yet with the most meals prepared – over 200 meals delivered to over 50 locations – since the 25 old program began.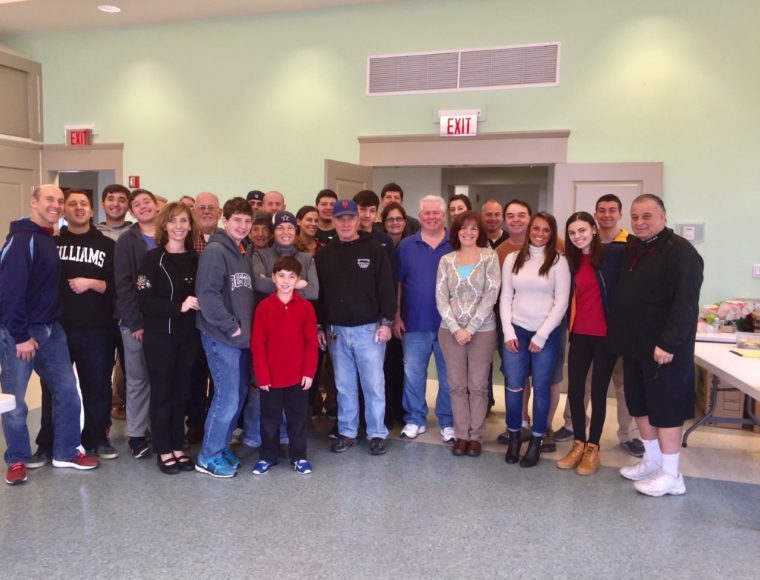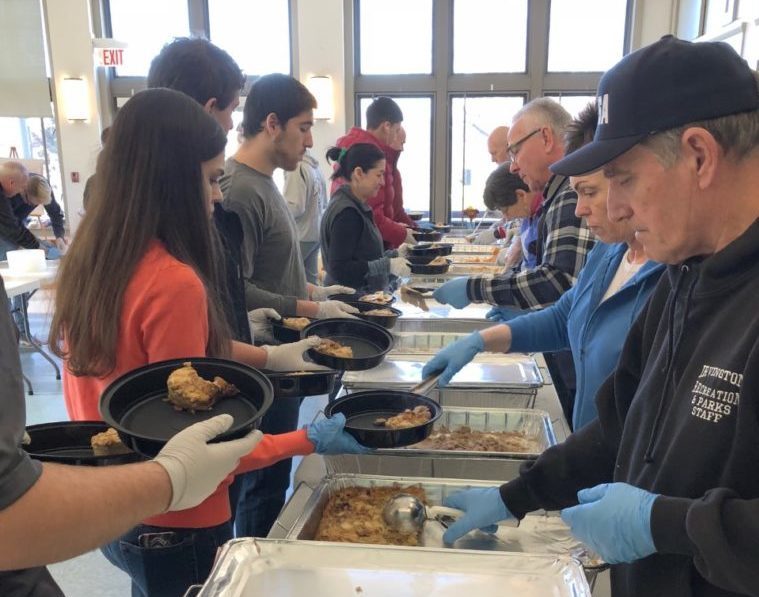 Project SHARE Thanksgiving Dinner
This year marks the 30th Annual Project SHARE Thanksgiving Dinner hosted at Hastings High School.  Project SHARE's Annual Thanksgiving Dinner for the Homeless is a time-honored tradition in Hastings-on-Hudson, where the annual Thanksgiving Dinner for the Homeless was first served by area high school students 30 years ago.
Fueling the massive effort are approximately 300 students from area high schools and colleges who volunteer their time every year. These volunteers prepare and cook meals for about 800 homeless men, women, and children from all five boroughs in New York City and Westchester County. And for the 400 or so people who can't make the dinner, meals are delivered the following day.
Mary Madigan, an agent in our Irvington office, has been a proud supporter of the Project SHARE Thanksgiving dinner for years. Mary's two daughters and now her 2 eldest grandchildren have volunteered countless hours to the effort, making it a cherished family tradition.  In support of this fantastic cause, the Houlihan Lawrence Irvington office will be making a monetary donation to the program.
Project SHARE is a community service group invested in sharing students' time in acts geared to making a difference in the larger community. For more information on Project SHARE, visit https://sharetheproject.networkforgood.com/.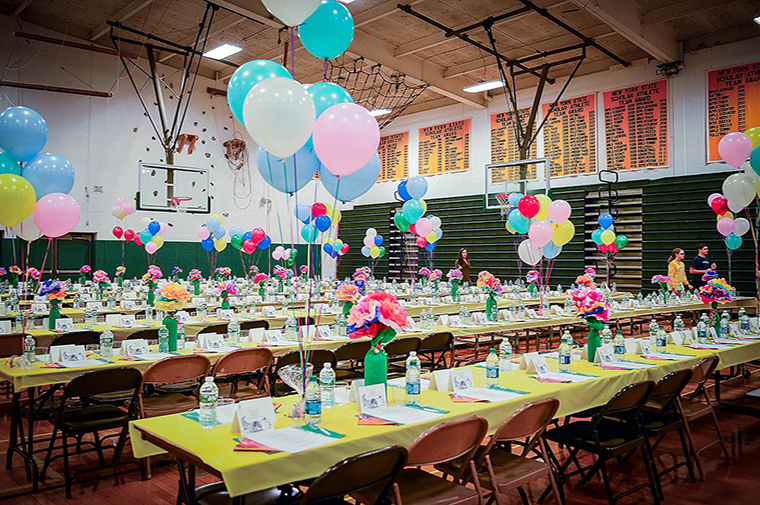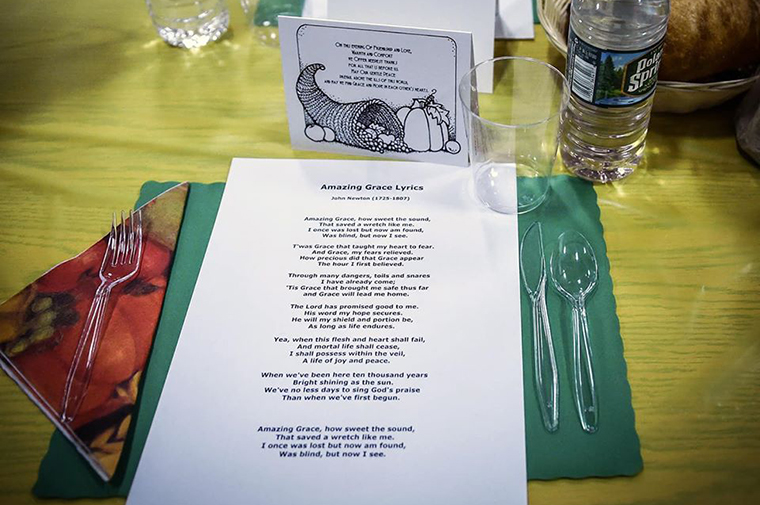 Darien Food Delivery
For ten years and counting Lisa Mosley, an agent in the Houlihan Lawrence Darien office, organizes a food donation and delivery program benefiting Community Connections Center in Norwalk, CT. Together, the team feeds 80 to 90 families with children at Thanksgiving and Christmas. This long-standing tradition brings the office together for a good cause while helping those in need in the community.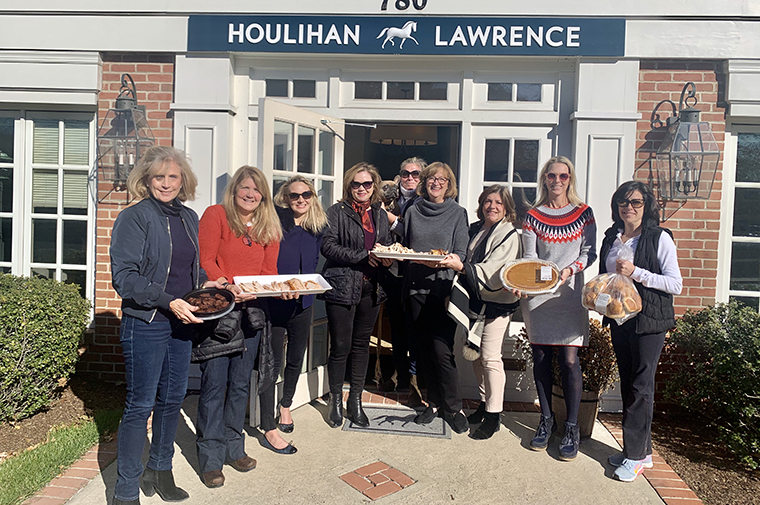 Houlihan Lawrence Book Drive
For the fifth consecutive year, Houlihan Lawrence has organized a company-wide Children's Book Drive to collect and donate books to community children in need.
From November 1 – November 22, collection bins were placed across our network of 30 field offices in New York and Connecticut, where they were quickly filled by agents who in turn encouraged members of their community to do the same. Thanks to an outpouring of support, we are proud this year is on track to be our biggest donation year yet with over 1,500 books collected.
The primary recipient of the Children's Book Drive is Family Centers, a locally-rooted organization on a mission to empower communities by helping those in need "obtain the tools to establish a strong educational foundation, overcome complex and critical problems, carry on healthy productive lives and achieve personal improvement."  Additionally, some offices will be contributing to the Children's Home of Poughkeepsie and HELP USA.