Throughout the month of June our communities North of NYC show their support of Pride Month.
From parades and park celebrations to storytimes and wellness seminars, there is something for everyone to participate in and support LBGTQ+ Pride. Read on to find about events taking place in your community.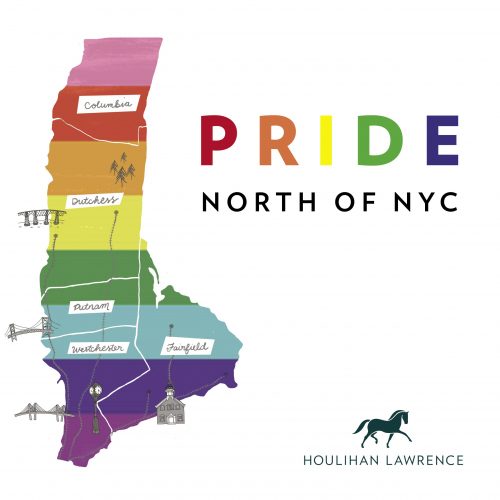 When: June 4, 2023 | 12:00 PM-5:00 PM 
Where: Downtown White Plains, NY | Court Street between Martine and Main 
It's not just a kick-off event, it's a Pride Spectacular! Westchester Pride 2023 is one of the largest Pride events North of New York City. Produced by The LOFT LGBTQ+ Community Center, Westchester Pride is an afternoon street festival including a Flag Raising ceremony that kicks off the festivities followed by a Pet Parade, a Family Zone filled with fun and games for the little ones, and a full list of entertainment on the concert stage.

When: June 10, 2023 
Where: Veteran's Memorial Park and Marina | 42 Seaview Ave Norwalk, CT 
Triangle Community Center is proud to announce Pride in the Park, Fairfield County's largest LGBTQ+ Pride festival. Thousands of guests will enjoy family-friendly activities, food and gift vendors, nationally acclaimed entertainment, and many other activities.
In addition to Pride in the Park, throughout the month, Triangle Community Center will also be hosting a Pride Family Field Day (June 10) and a Darien Pride Day (June 11).
For a full list of Fairfield County Pride events taking place, click here.

When: June 24, 2023 |  1:00pm – 6:00pm
Where: Pugsley Park | 1036 Main Street Peekskill, NY
In 2016, Peekskill Pride was formed with the objective of raising LGBTQ+ awareness and visibility, showing visitors and prospective residents that there is a strong, supportive, welcoming community in Peekskill.
The Third Annual Family Pride in the Park (June 24) will include music, crafts, entertainment and more!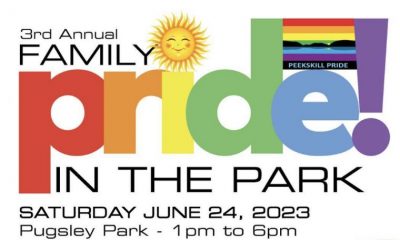 When: June 24, 2023 | 1:00pm
Where: Brewster Village, NY
Putnam Pride is a grassroots organization dedicated to building a welcoming community for queer people of all ages to gather and celebrate in Putnam County, NY.
On June 24th,  join Putnam Pride for the Fourth Annual Putnam Pride celebration. Featuring hosts Angel Elektra and ShayD'Pines, the event will feature more than two dozen local vendors, as well as speakers who will emphasize the importance of LGBTQ+ books and stories to identity and visibility, performers, live music, and other family-friendly activities.

When: June 10, 2023 | Parade begins at 12:00pm and kicks off Festival
Where: Parade line up in front of Main St & Market St and steps off at Noon
Every June, Dutchess County Pride Center hosts a monthlong celebration of pride and diversity which includes numerous social events throughout Dutchess County. This celebration culminates in the annual Poughkeepsie Pride Parade & Festival, held annually on the second Saturday of June. 
The Poughkeepsie Pride Parade & Festival features food vendors, local LBGTQ+ owned businesses, activities for children and families, and music. In addition to the Pride Parade & Festival, there is also a Rainbow Run (June 11) and a Pride Hudson Valley Renegades Baseball Game (June 29).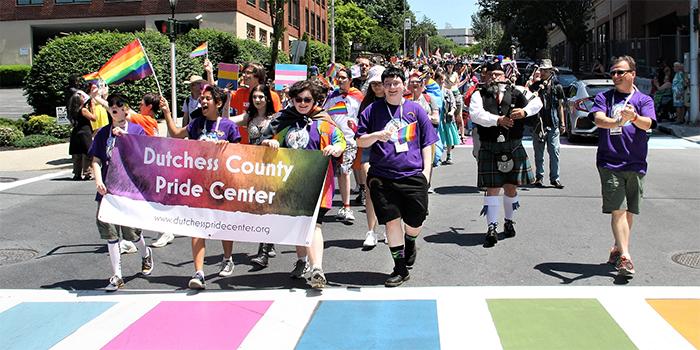 When: June 3, 2023 | 12:00pm – 3:00pm
Where: Ballard Park | 485 Main Street Ridgefield, CT 
Ridgefield will celebrate Pride Month with events throughout June, starting with a flag-raising ceremony on Thursday, June 1, at 10:00 a.m. in front of Town Hall.
The town's fourth annual Ridgefield Pride in the Park celebration will take place on June 3 from 12pm – 3pm in Ballard Park. The free event will offer live music, crafts, a raffle, lawn games, child-friendly activities, and a photo station. It all starts with a parade around the park at 1 p.m.
Throughout the month, Ridgefield Pride will also be offering a Pride Perks Card program. The Pride Perks Card entitles the cardholder to discounts or perks at participating businesses and is a great way to support Ridgefield CT Pride. 
To learn more about Ridgefield Pride, click here.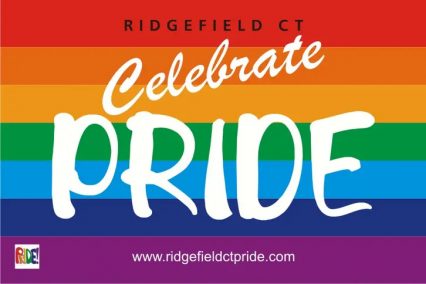 When: June 3, 2023 | 2:00pm – 4:00pm
Where: Husdon, NY
OutHudson Inc. is proud to announce the return of Columbia County's 14th Annual Pride Parade and Festival on the weekend of June 3, 2023 in Hudson, New York. This year, OutHudson will celebrate National LGBTQIA+ Pride Month with a Parade on Saturday June 3, 2023 from 2:00pm – 4:00pm. The 2023 Parade Theme is "On The Road Again" – a friends, family and community celebration of love.