"Shop Local" rings strong here in the suburbs north of New York City, which despite its urban proximity remains a stronghold of mom-and-pop America where shopkeepers don't need binary search algorithms to suggest the perfect purchase to loyal regulars they know by name and face.  From quirky bookshops and hipster boutiques to family-run pharmacies to lock, stock and barrel department stores, we sought out our favorite locally-sourced finds we'd dream of finding wrapped under our seasonal conifer or candelabra:
Little Big Trivet
Found at: Stone Barns Center (630 Bedford Road, Pocantico Hills)
This (t)riveting device by Brooklyn-based Areaware is a brilliant party hack, expanding and contracting to accommodate whatever you lay on it.  You'll find it among other kitschy offerings at the Stone Barns gift shop.
Wilderness Fragrance by Juniper Ridge
Found at: Cold Spring General Store (61 Main Street, Cold Spring)
Distilled from woodland plants, barks and mosses, this ruggedly stylish fragrance line for body and home, created by hikers and foragers, invites the spirit of adventure everywhere you go.  Each bottle comes stamped with a batch number you can plug in online to see the story behind the corresponding ingredients and the details of who harvested them.
Snarky Stocking Stuffers/Dreidel Prizes by BlueQ
Found at: Suburban Groove (33 Katonah Avenue, Katonah)
Sometimes it's all about the small things.  BlueQ is the Berkshire-based novelty brand pioneering the art of things you don't need until you have them, and chances are you've probably seen their punny, graphically-pleasing wares peddled at a check-out line near you.  Myriad creations cranked out by the Berkshire-based novelty brand include "Instantly Talk To Your Cat" chapstick, Marie Antoilette lavatory mist, "I hope eye rolling counts as cardio" chewing gum and more hysterical slogans we won't detail on our family-friendly blog.
Tote + Able Foldable Bottles
Found at: Domestic Dry Goods Company (14C Rye Ridge Plaza, Rye Brook)
Whether for water or wine, these reusable canvas flasks make it easy to shuttle and sip your beverage of choice a little less ubiquitously.  Made in the USA to keep plastic out of landfills.
Scented Candles by Cold Spring Apothecary
Found at: Cold Spring Apothecary (75 Main Street, Cold Spring)
Warning: Entering Cold Spring Apothecary may drive even adult men to spend entire afternoons sniffing every candle in the store, with deep-noted aromas like Aged Leather, Amber Fig, Black Pepper Tobacco and Spruce & Clove.  Even Madewell picked up on our local source being the best of the best; they now sell them in stores and online.
Rambler's Way Wool Comfortwear
Found at: Charles Department Store (113 Katonah Avenue, Katonah)
From soft sweaters to toasty French Terry pajama pants, this new apparel line from the folks behind Toms of Maine is simple, sustainable and easy to love.  It's just one example of the hip, relevant brands—both established and emerging—you'll find at the 90-year-young retailer, expertly curated by the third and fourth-generations of its founding family.
Luxury Home Linens from Union Hall General Store
Found at: Union Hall General Store (2 Keeler Lane at Route 121, North Salem)
Set in the restored 1848 Union Hall building, this meticulous marketplace purveys a consummate array of fine home linens—stock or custom—sourced from all corners of the globe, from remote Uruguayan villages to Belgium.  Individually sourced direct from their suppliers, owner Jane Beltz's curated offerings of luxury and fair-trade textiles include a sampling from Madame Edith Mezard, whose atelier, based in Lumieres, has furnished embroidery to even royal households.
Local Tri-Blend Tees
Found at: Old Souls Brand (63 Main Street, Cold Spring, NY)
Show off north country pride and serious style with these sharp, super soft screen-printed tees by Old Souls.  They feel as nice on the eyes as they do on your person—once you get one, you might never want to take it off!
Images of America Local History Books
Found at: Womrath Bookshop (76 Pondfield Road, Bronxville)
No matter where you are, chances are there's a sepia-covered paperback about its past.  Arcadia Publishing works with historians throughout the country to document hyper-local legacies, beautifully presenting them in a crisp sepia-covered format.  Titles of regional relevance in the series include Bedford, Around Cold Spring, Playland, The Croton Dam & Aqueduct and at least a dozen others.  With retailers stocking various titles by area relevance, it's a great excuse to support our independent community booksellers, whether Womrath in Bronxville, Arcade in Rye, Oblong Books in Millerton and Rhinebeck, Little Joe's in Katonah or Booksy Galore in Pound Ridge.
Letterpress Holiday Cards
Found at: Paper Trail (6423 Montgomery Street, Rhinebeck)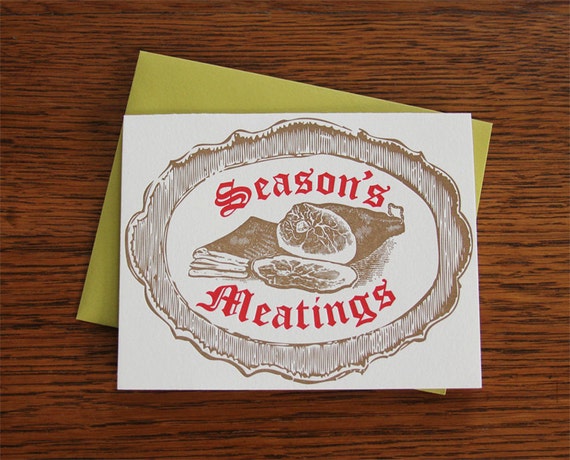 If you're going to say "I care" through printed messages you didn't write, they might as well be witty.  These local artisan-made cards are the pinnacle of paper-phernalia, with clever sayings, crisp artwork and a printing technique that attained luxury status through obsolescence. Paper Trail boasts the best selection we've seen, many from Greenwich Letterpress in Manhattan's West Village. You'll even find letterpress gift tags and other crafty accoutrements to make your gift wrapping Pinterest-perfect.
Crown Maple Syrup Gift Set
Found at: Taste NY (Taconic Parkway at Todd Hill Road, LaGrangeville, NY)
Crown Maple Syrup, produced by Dover Plains-based Madava Farms, is a mayor player Hudson Valley culinary landscape.  Like syrup sommeliers, the artisan label takes a fine wine approach to this liquid gold, offering no less than four standard varietals harvested from the Taconic Hardwood Forest terroir.  Trios featuring Light, Medium Amber and Dark Amber are available in petite or full-sized bottles.
Snowflake Container Lid
Found at: Chelsea Dry Goods (2 Main Street, Hastings-on-Hudson, NY)
Another one from the kitchen gadget department, these seasonal-themed silicon lids seal tight on all smooth-rimmed cups and containers, keeping their contents hot, cold and/or protected.  They're certainly more stylish than plastic wrap, and downright fun.
Featured photo by Caitlinn Mahar-Daniels Photography