ASTROLAB DINING TABLE
by Roche Bobois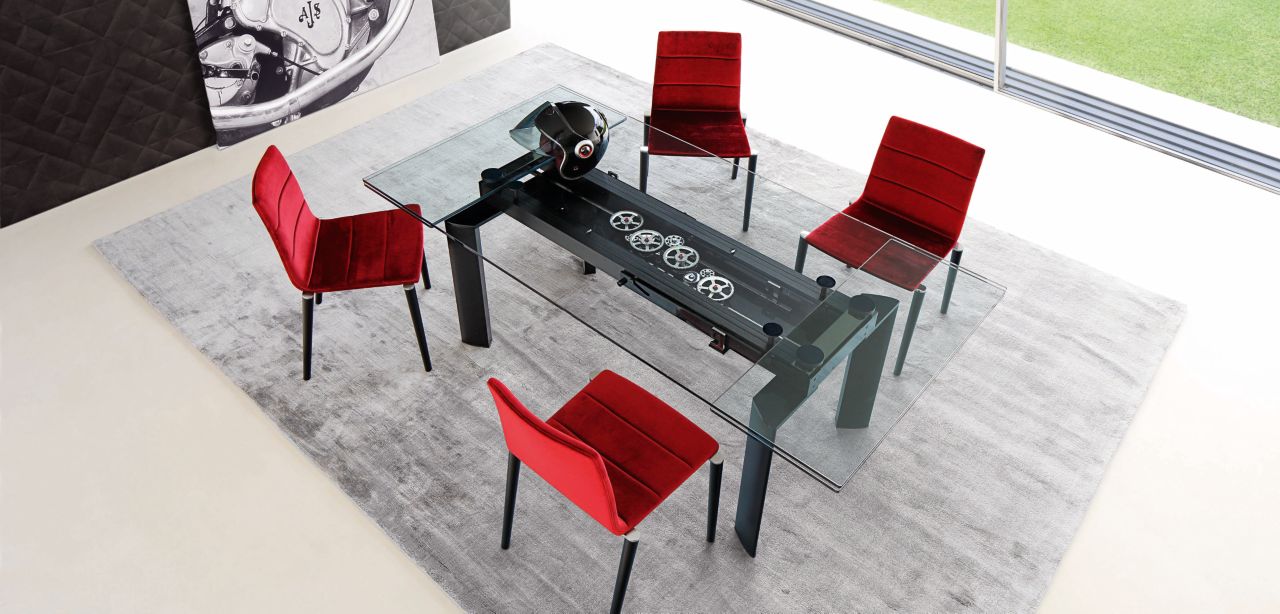 Roche Bobois is ready to blast your dining room into the 21st century. Featured in last year's 2014 Westchester Magazine Dream House at our Ritz-Carlton Residences penthouse listing, this industrio-futuristic enlarges to accommodate additional guests literally at the click of a button. A remote-controlled mechanism drives a series of brilliantly polished bevel gears, extending 40cm leaves from each end. The clockwork-like motion couples with a chic black aluminum and nickle frame to incite serious wow power.
LINEA MINI ESPRESSO MACHINE
by La Marzocco
Espresso machines are a favorite gourmand gift, but finding one to jolt you into true coffee connoisseurship takes looking beyond Bed, Bath and. The Linea Mini is best in its caffeinated class, hand-crafted in Florence to the exacting perfection of its full-sized counterparts—Marzocco machines are a staple at swanky city perk points like Stumptown, Blue Bottle. According to Sprudge (the barista blog of record), it underwent not one but two separate rounds of consumer testing with test groups of 30-40 home users, a testament to its manufacturer's perfectionism. Pair with a Mazzer grinder, bag of beans from local roasters like NEAT, Irving Farm or Coffee Labs and, short of glowing laptop screens and live acoustic guitar, you've got a third-wave cafe without even walking out your front door.
ORBIT LIGHTING
by Workstead

Workstead's Orbit line brings fresh style to surroundings old or new. with spun brass discs encircling and reflecting the bulb. The series includes a pendant, sconce and table lamp with three rich base options: Carrara, Green Marble or Travertine. They're made right in Brooklyn, and with mobile arms you can mix things up every now and then.
ADIRONDACK GUIDE BOAT
by Adirondack Boat Works

Your dory dock deserves better than a rubber raft tied to it. The Adirondack Guideboat is a fitting complement for homes with ponds large enough to be enjoyed but small (and calm) enough to be plied with a relaxed row. The cedar or kevlar vessels boast exquisite finishing: the seats are caned and framed with milled hardwood. The standard model can even be retrofitted with a sailing rig, taking things to a whole new level.
CAGNEY STEAM TRAIN
by Wasatch Railroad Contractors

You'll need a really big tree to put this train set around. Built by New York's Cagney Brothers at the turn of the last century to run at Coney Island, Central Park and other Victorian pleasure points around the world, these lilliputian locomotives are the real thing: you'll shovel in little coal with a little scoop (you can trade fun for convenience by firing them off a standard propane bottle) to boil water, blow the whistle and steam off. A Wyoming company recently resurrected the storied brand, building these iron ponies brand new with every authenticity of the New York-bred originals. What better way to take guests around your grand gardens—or make mundane tasks like hauling firewood up to the house infinitely more fulfilling—than with your own railroad empire?
BATHSPHERE
by Alexander Zhukovsky

Oh, you have a claw-foot tub? How quaint. Suspended from the ceiling, this surreal creation by Alexander Zhukovsky is an entire ecosystem of relaxation, empowering its indulgent user to simulate rain, control humidity, light, temperature, sound and even introduce smells.
YURT
by Rainier Yurts

The only thing better than the word itself is the real thing. If you've got a lot of land, why not get creative and consider a glamp-orous guest accommodation? There are companies that specialize exclusively in the earthy structures, trending at wilderness resorts and Catskills airbnbs alike.