The crunching of leaves; radiant waves of red, orange and yellow streaked like watercolors across the landscape; the distant musk of wood fires piping out chimneys on cool nights. There's really nothing quite like autumn in the Hudson Valley and southern New England—in fact, we daresay nobody does it better. Here's our bucket list of must-do autumn activities in New York City's northern suburbs in Westchester and beyond.
Go apple picking (and stuff your face with cider doughnuts).

image: Westchester Magazine
Is that an accident ahead or are the Police just directing traffic into the orchard? It might well be the Hudson Valley's favorite fall pastime from North Salem to New Paltz. Plan early: Like any "Apple store" with hot product releases, you can expect crowds. Visit our interactive guide for everywhere to grab apples north of NYC this fall.
See the Great Jack O'Lantern Blaze at Van Cortlandt Manor.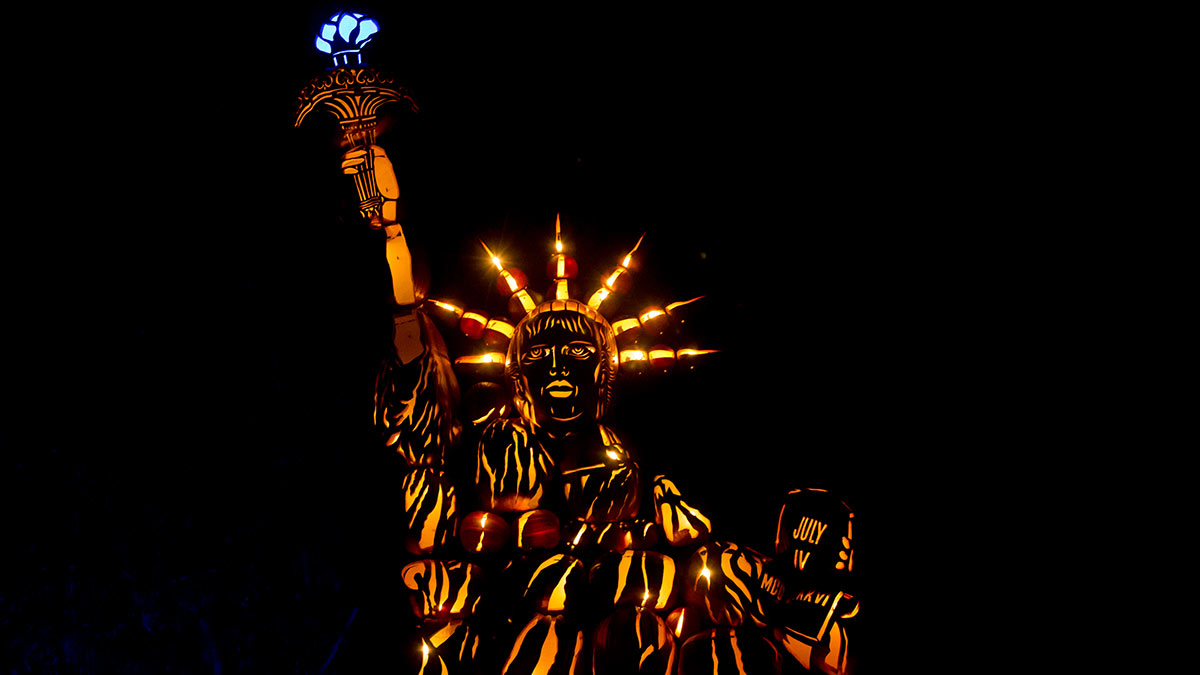 image: Historic Hudson Valley

We're pretty sure you can't pull this off with a supermarket pumpkin and some tealights.  Why settle for one lit-up pumpkin when you can see 5,000 assembled into dinosaurs and other various larger-than-life forms?
Visit Storm King Art Center and impress your friends with clever Instagrams juxtaposing yourself with giant sculptures.
Because everyone should have at least one family photo next to an Alexander Calder as this year's holiday card contender.  It's like a sophisticated miniature golf course for Gulliver, only instead of windmills there's just a lot of larger-than-life spatial art installations toured by a Disney-style tram. Pack a picnic, or simply stroll the surreal grounds and watch the daisies blow in the wind.
Spend the night at a Hudson Valley B&B.

image: Hotel Tivoli
Imagine the ultimate autumn staycation, awaking to the river breeze tickling your curtains in the morning for a piping breakfast involving pumpkin and apple.  Bountiful boutique inns, from Hudson's historic Merchant House and The Barlow to the hip Hotel Tivoli and Woodstock's in-room turntable-equipped  Hotel Dylan, offer everything from cozy to chic, providing a home-away-from-home base for antiquing, wine tasting and whetting your artisanal, small batch farm-to-table appetites.  Rhinebeck's storied Beekman Arms, where George Washington once sipped a stein of lager in the famed tavern, holds title as America's oldest continuously operating hotel.  Across the river in Phoenicia, The Graham & Co. beckons Brooklynites from with its viral "Catskills vs. Hamptons" t-shirts, meticulous art direction and general woodsy hipster vibes on three summer camp-like acres (not to mention a Columbus Day reprise of its popular Phoenicia Flea).

Tour a historic Hudson River mansion.

image: Olana/New York State Parks
Gilded age barons were the celebrities of their day, and while they thankfully never lived to see TMZ, tours of their former digs provides even more intimate insight into the lavish lives they live.  In Westchester, tour the estates of John D. Rockefeller in Pocantico Hills (Kykuit) or Jay Gould in Tarrytown (Lyndhurst).  Wander Wilderstein in Rhinebeck, a towering Queen Anne classically styled by a trifecta of architects including Joseph Burr Tiffany, instantly recognizable by its five-story turret and porte-cochère.  Further northward is Olana, the Moorish-influenced Calvert Vaux commission for noted Hudson River School painter Frederick Church prominently featured in those Robert DeNiro-narrated I Love New York commercials. Even haute hotelier André Balasz was bewitched by the allure of these old capitalist castles, revivng Staatsburg's Locusts-on-Hudson as a sleek venue and founding an organic farm to support the restaurants at The Standard, Mercer Hotel and Shelter Island's Sunset Beach.  And we can't forget Washington Irving's Sunnyside and FDR's Hyde Park-on-Hudson.
Have a dirty chai at Coffee Labs Roasters
Few tastes match the season like a shot of fair trade, freshly-roasted espresso poured over steamed milk with premium chai powder (no sugary syrups here), best sipped strolling down a storied main street in Sleepy Hollow country.  You can also get it at Bank Square Coffee House in Beacon, which sources its beans from the Westchester roaster and boasts a backyard that's too cool for school.  It's available sugar free, and if you're lucky you might even get a puppy or kidden in your latte art.  #Adorbs.
Do nothing at all.
Just be here, taking each and every day as it goes, watching the leaves fall and doing all of the above without thought.
Visit our interactive guide for more things to do and places to visit north of NYC